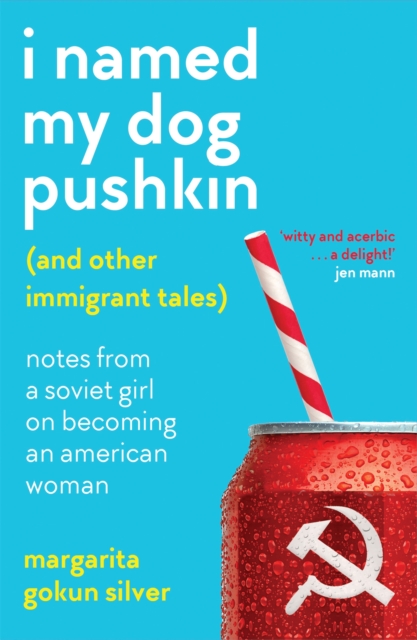 I Named My Dog Pushkin (And Other Immigrant Tales) : Notes from a Soviet girl on becoming an American woman
Paperback / softback
Description
Buy a pair of Levi's, lose the Russian accent, become an American... how hard could it be?Moscow, 1988. After years of antisemitic harassment, countless hours waiting in line for toilet paper, and having zero access to cool jeans, Margarita decides it's time to get the hell out of the Soviet Union.
While dreaming of buying the boat-sized Buick she'd seen in a pirated VHS of Miami Vice and getting a taste of whatever it is Bruce Springsteen is singing about, she comes up with a plan to escape Mother Russia for good.
When Margarita arrives in the US with her family, she has one objective - become fully American as soon as possible, and leave her Soviet past behind.
But she soon learns that finding her new voice is harder than avoiding the KGB. Because, how do you become someone else completely?
Is it as simple as changing your name, upgrading your wardrobe and working on your pronunciation of the word 'sheet'?
Can you let go of old habits (never, ever throw anything away), or learn to date without hang-ups ('there is no sex in the Soviet Union' after all)?
Will you ever stop disappointing your parents, who expect you to become a doctor, a lawyer, an investment banker and a classical pianist - all at the same time? And can you still become the person you dreamed you'd be, while learning to embrace parts of yourself you've wanted to discard for good when you immigrated?Absolutely hilarious, painfully honest and sometimes heart-breaking, the award-winning I Named My Dog Pushkin will have fans of David Sedaris and Samantha Irby howling with laughter at Margarita's failures, her victories and the life lessons she learns as she grows as both a woman and an immigrant, in a world that often doesn't appreciate either.
What readers are saying about I Named My Dog Pushkin:'Hilariously funny, whip-smart and absolutely fascinating...
Silver shows that the only person she needs to ever become is herself.
Just amazing.' Caroline Leavitt, New York Times bestselling author of Pictures of You and With or Without You'Laugh-out-loud funny... a particular pleasure to see our splintered country through the eyes of this determined and appreciative emigree.' NPR Books'An eye-opener... a whole other brand of Jewish humor... The book's wit, drama and erudition appear to me wholly miraculous.
Margarita deserves a literary prize.' Alicia Bay Laurel, New York Times bestselling author of Living on the Earth'Hysterically funny and thought-provoking... perfect for anyone fascinated with the USSR' FangirlNation'I thoroughly enjoyed Margarita's witty and acerbic voice.
This book was a delight!' Jen Mann, New York Times bestselling author of People I Want to Punch in the Throat'Hilarious...
From one USSR immigrant to another... I related a lot.' Margarita Levieva, HBO's The Deuce'Hilarious and thought-provoking.' California Bookwatch'A memoir like this is so very rare, one in which you learn a great deal, while laughing throughout.
Highly, highly recommended.' Wandering Educators'Plunges the reader into a world in which Coca-Cola is synonymous with freedom... riveting... moving... Gokun Silver is a gifted, witty writer.' Los Angeles Review of Books'Sure to delight while tugging at your heartstrings.' Jewish Book Council'Had me laughing and smiling all the way through... a perfect balance of wit and seriousness... Superb.' Goodreads reviewer'Laughed my socks off!' Goodreads reviewer'I loved this book so much...
I just could not stop reading.' NetGalley reviewer'A sharp, witty memoir...
Margarita captured Jewish joy and grief together perfectly.' Goodreads reviewer'Darkly funny... reminiscent of other acerbic comedian authors like Sara Barron... fascinating.' NetGalley reviewer
Information
Format:Paperback / softback
Pages:272 pages
Publisher:Octopus Publishing Group
Publication Date:29/07/2021
Category:
ISBN:9781909770669
Information
Format:Paperback / softback
Pages:272 pages
Publisher:Octopus Publishing Group
Publication Date:29/07/2021
Category:
ISBN:9781909770669