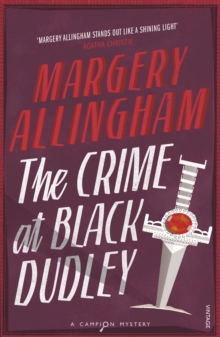 The Crime at Black Dudley
Paperback
Description
This is the First Campion Mystery. "Margery Allingham stands out like a shining light." (Agatha Christie).
A suspicious death and a haunted family heirloom were not advertised when Dr George Abbershaw and a group of London's brightest young things accepted an invitation to the mansion of Black Dudley.
Skulduggery is most certainly afoot, and the party-goers soon realise that they're trapped in the secluded house.
Amongst them is a stranger who promises to unravel the villainous plots behind their incarceration - but can George and his friends trust the peculiar young man who calls himself Albert Campion?
Information
Format: Paperback
Pages: 240 pages
Publisher: Vintage Publishing
Publication Date: 07/05/2015
Category: Classic crime
ISBN: 9780099593492
Free Home Delivery
on all orders
Pick up orders
from local bookshops
Reviews
Showing 1 - 2 of 2 reviews.
Review by gbelik
27/08/2015
I believe this is the first of Allingham's mysteries featuring Albert Campion. What fun it was. A group of guests are assembled in a country mansion to celebrate a birthday; murder occurs and the fun begins.
Review by saroz
27/01/2016
The first in the series of Albert Campion "mysteries," although it's easy to dismiss this one and move straight on to "Mystery Mile," the first to focus on Campion as the protagonist. Frankly, it's obvious from the start that these aren't true mysteries in the traditional sense: an Allingham novel rarely gives the audience the ability to put all of the pieces together on their own, and this one is no exception. It is more accurate, really, to call the Campion books adventure-thrillers, and usually well-characterized ones at that.At this early stage, though, many of the characters feel quite similar: most of them are upper-class young people, and they pretty much all speak in the same affected 1920s vernacular. It is absolutely obvious that the stand-out character is Albert Campion himself, who features here as an *extremely* showy secondary character. He takes the lingo to its zenith, fooling around and generally making an ass of himself, all the while managing to quite cleverly manipulate the situation. Small wonder Allingham chose to focus on him in her next thriller and for many more books thereafter.Perhaps the most surprising aspect of this book is its rapid tonal shifts - from thriller to romance and back again - and the final chapter's venture into social moralization feels just a little bit awkward (not to mention extremely surprising). There are, to be fair, better novels of this type from the era; Agatha Christie's <i>The Secret Adversary</i> leaps to mind as one, although neither her Tommy or Tuppence are nearly as vivid a character as Campion. And that's the difference, really: if Christie is better at plot twists, Allingham quite honestly has the upper hand at characterization. This isn't her most layered or enjoyable work, to be sure. Still, it's a not inauspicious beginning, and it definitely whets the appetite for more adventures with the elusive Mr. Campion.