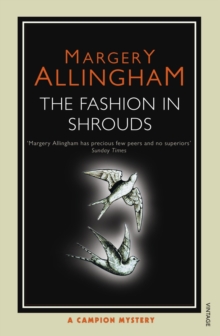 The Fashion in Shrouds
Paperback
Description
A VINTAGE MURDER MYSTERYAgatha Christie called her `a shining light'.
Have you discovered Margery Allingham, the 'true queen' of the classic murder mystery?First, there is a skeleton in a dinner jacket.
Then a corpse in a golden aeroplane. After another body, private detective Albert Campion nearly makes a fourth... Both the skeleton and the corpse have died with suspicious convenience for Georgia Wells, a monstrous but charming actress with a raffish entourage.
Georgia's best friend just happens to be Valentine, a top couturiere and Campion's sister.
In order to protect Valentine, Campion must unravel a story of blackmail and ruthless murder. As urbane as Lord Wimsey...as ingenious as Poirot...
Meet one of crime fiction's Great Detectives, Mr Albert Campion.
Information
Format: Paperback
Pages: 304 pages
Publisher: Vintage Publishing
Publication Date: 02/03/2006
ISBN: 9780099492795
Free Home Delivery
on all orders
Pick up orders
from local bookshops
Reviews
Showing 1 - 2 of 2 reviews.
Review by hazelk
16/06/2015
I don't quite know what it was but I didn't enjoy this as much as the other of Allingham's Campion stories.I don't know if it was the milieu, the frankly dated speech or just that it was rather overwritten.
Review by saroz
27/01/2016
Well, that was...different.Having read all of the Campion books up to this point, in order, I find myself wondering just what Allingham set out to do with <i>The Fashion in Shrouds.</i> It's not a particularly smooth novel. In fact, although I don't have any evidence for the theory, it reads like a book that may not have been originally intended for Campion at all. He's a brooding presence, far from the faux-Harold Lloyd figure affected in the earlier novels, and he only really shines in a few interactions with Lugg, his manservant, and Amanda, his fiance. Otherwise, his function is largely a mechanical one as the investigator - he is almost always called Mr Campion, not Albert, as if to increase audience disaffection - and his overall attitude is more than a little dour.It's possible, then, that Allingham really didn't want to write about Campion any more, much as Agatha Christie became sick of Hercule Poirot and tried to sideline him in his later novels as much as possible. <i>Shrouds</i> almost reads as if it was envisioned as a romance, not a mystery, with Campion's sister Val and her client Georgia taking most of the spotlight if not the actual lead. Other reviews have chastised the book for its racism (historical but undeniable), but the jaw-dropper really is the anti-feminist rhetoric, which frankly forms most of the narrative voice. It's hard to read today, all the more because without the strange ruminations on women's minds, their flights of emotion, what they could and should give up for a man, and some remarkably biting chauvinistic dialogue, there's not much of a narrative left! This is a melodrama, a late 1930s "B" picture about star-crossed lovers that just happens to have the peculiarly dark cloud of Albert Campion wandering through it and prompting people for exposition. As Allingham certainly penned pure romances, it would be interesting to know if <i>Shrouds</i> was intended as just such a novel - wish-fulfillment stuff for a very different kind of reader - before she realized she needed a new Campion adventure. Campion's infamous line to his sister that she may need "a good cry or a nice rape," in context, is clearly the equivalent of someone saying "You just need to get laid" today, but it still has the awkward, harsh sound of someone speaking in a cheap romance novel, not easygoing, upper-class detective fiction. Yet, <i>Shrouds</i> isn't particularly easygoing, anyway. The whole book is notably grim compared to earlier Campion novels, too. In <i>Dancers in Mourning</i>, the previous thriller, Allingham started to suggest a certain seediness to the lifestyle of the young and wealthy which the aging Campion found distasteful. Now she is making that very clear, from her overly lush descriptions of the fashion industry and its workers to the macabre details of the murdered bodies. Bright artifice and dark reality are being constantly contrasted, and both Mr Campion and his author seem troubled by everything they see. With World War II on the horizon, it's hard not to wonder if Allingham saw an end to frivolity - and, perhaps, an end to the usefulness of her Harlequin-esque hero entirely. As it is, between 1933 and 1938, Allingham published six Campion novels or collections, the last being <i>Shrouds</i>. She would not return to the character until <i>Traitor's Purse</i>, three years later, and she would never write about him with such frequency again. What's to enjoy about <i>The Fashion in Shrouds</i>? The novel boasts one of Allingham's best titles, after a run of rather plebeian ones like <i>Mystery Mile</i> and <i>Sweet Danger</i>. It's fun to watch Allingham juggle characters, as usual, although in this case there may simply be too many to really follow. Perhaps most winningly, in the midst of the muddled anti-feminist focus, Allingham has tomboy Amanada define two types of relationship: "cake-love" versus "bread-and-butter love." It's the kind of practical, gentle wit that characterizes so many of the previous Campion novels - and it's sorely felt for its relative absence here.