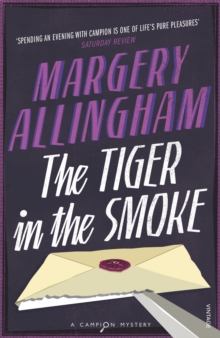 The Tiger In The Smoke (Heroes & Villains)
Paperback
Description
This is a vintage murder mystery. JK Rowling called The Tiger In The Smoke 'a phenomenal novel'.
Have you discovered Margery Allingham, the 'true queen' of the classic murder mystery?
Jack Havoc, jail-breaker and knife artist, is on the loose on the streets of London once again.
In the faded squares of shabby houses, in the furtive alleys and darkened pubs, the word is out that the Tiger is back in town, more vicious and cunning than ever.
It falls to private detective Albert Campion to pit his wits against the killer and hunt him down through the city's November smog before it is too late.
As urbane as Lord Wimsey ...as ingenious as Poirot...Meet one of crime fiction's Great Detectives, Mr Albert Campion.
Information
Format: Paperback
Pages: 224 pages
Publisher: Vintage Publishing
Publication Date: 01/12/2005
Category: Crime & mystery
ISBN: 9780099477730
Free Home Delivery
on all orders
Pick up orders
from local bookshops
Reviews
Showing 1 - 5 of 7 reviews.
Previous | Next
Review by monado
16/06/2015
The Smoke" is London, England. Meg Elginbrooke asks Albert Campion to investigate: she keeps receiving photographs that look like her husband, declared missing in the Great War and believed dead five years before. Is he alive? Or is someone imitating him and if so, why? The action culminates in a hunt for a treasure in France. Margery Allingham creates picturesque characters but, in my opinion, she can't make them plausible.
Review by bcquinnsmom
16/06/2015
I must say that I was a bit underwhelmed with this story. I know, I know, a LOT of people have written that this was one of Allingham's finest. Truthfully, I read these books because I enjoy the character of Albert Campion, and I enjoy watching him go after the bad guys. However, here, he's somewhat incidental and I didn't like it as much as I've liked other books in the series. The bad guy in the story was portrayed quite well, but everyone else just sort of fell flat. I do recommend it if you're reading the series, but read them in order and for heaven's sake, do NOT start with this one! It's not Allingham's best, and if you had no clue about Campion, you wouldn't gain anything from starting with this book. I hate dissing one of Allingham's books, but this one (imho) just didn't do it for me.
Review by JustAGirl
16/06/2015
Excellent detective novel, featuring the magnificent Albert Campion, complete with mistaken identities, buried treasure, a cast of entertaining characters and a thick London pea-souper!
Review by Kasthu
16/06/2015
A young woman receives a series of photographs—snapshots of a man who looks exactly like her first husband. An investigation turns up something much darker and more sinister than anyone could have expected, and secrets from the past come to light. Most dangerous of all is a mad serial killer on the loose with everything to lose, called Jack Havoc.The Tiger in the Smoke is the first Albert Campion book I've read, having first heard about it in a list of great 20th century mysteries. Maybe it wasn't the best book to start with, as Campion isn't a central figure in this book and there's not much character development of the regulars. But nonetheless I enjoyed this taut, slightly grim story of the chase of a homicidal maniac, loose on the streets on postwar Europe. It's a highly suspenseful novel; I especially enjoyed the scene in the empty house. There's also a wonderfully intriguing cast of characters, including an albino and a dwarf. But the "character," if you could call it that, is the November fog, which pervades everything. This is a highly effective mystery; suspenseful, as I've said. I'll definitely be reading more by Margery Allingham in the future.
Review by charlie68
16/06/2015
Unusual in that there isnt too much mystery in this story, but has more spiritual depth. Campion is one of my favorite sleuths of all time. But he didnt have to much to solve in this one. But he always brightens a page and illumines a book he's in.
Also in the Vintage Heroes & Villians series