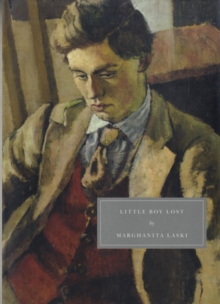 Little Boy Lost
Paperback
Information
Format: Paperback
Pages: 240 pages, Illustrations
Publisher: Persephone Books Ltd
Publication Date: 20/10/2008
Category: Historical fiction
ISBN: 9781906462055
Free Home Delivery
on all orders
Pick up orders
from local bookshops
Reviews
Showing 1 - 5 of 6 reviews.
Previous | Next
Review by rainpebble
16/06/2015
This is the story of a young Englishman, Hilary, who after WWII is left knowing that his French wife was killed by the Gestapo and that his young son, whom he has not seen since his birth, is lost among the many orphans in the war's aftermath. Pierre, a friend of his dead wife, comes to Hilary and tells him that he has been searching for three years for the young lad and thinks that he may have found him. And would Hilary like to come with him to attempt to find out the truth of the boy's identity. Pierre and Hilary set out to meet the lad in France at the Orphanage where he has been living these past years. He is only now just 5 years of age. As they get near to the city of the Orphanage, Hilary sends Pierre back saying that this is something he must do on his own.Hilary is a writer and is used to having his time to himself and fights within himself if he could be a good father and if he has the stuff it takes to be a father to a young child. He goes back and forth about if or not the child could be his and how one would/could prove it before he even meets the little boy.Once he gets to the city he finds a hotel and then visits the Orphanage. The head Sister has a letter from Pierre explaining the circumstances and has made ready for Hilary to meet John, the name given the young lad. Hilary comes daily to spend two hours with wee John, trying to find signs that this could or could not be his son.Tis a marvelous story and one that not wanting to put down, I found that at times I must for I wanted to shake Hilary at times and I just needed to find a calm within myself before going on."The moon was rising over the grey roofs and the stars were shining in the black sky. He is clearly not unintelligent, Hilary was saying to himself as they walked along, but how in God's name can he be happy in this one-eyed town? I should die of boredom if I had to live in the provinces in England. I suppose, he thought resentfully, that he has this capacity for happiness Pierre was talking about. But does that mean, he questioned, that one is able to live anywhere, like people uncritically and just be happy? Yet how could one be happy if one had only fools to talk to? Is he perhaps imbued with the old sentimental belief that the recognition of true worth in anyone makes them a desirable companion on a level of common humanity?" I am so thankful to those who very actively recommended this book to me and that I took their advice and read it. It is quite different from most of the books that I have read. I gave it 4 1/2 stars and highly recommend it. It is one that I will read again and probably again as I think there is much to be gained by a reread of Little Boy Lost. It was so intense at times that I know there are undercurrents and things that I missed in this read. I will probably do a reread sooner rather than later. I rated this one 4 1/2 stars and highly recommend it.
Review by Kasthu
16/06/2015
Little Boy Lost is set during and just after WWII. Hilary Wainwright is an English writer who lost his wife during the Holocaust—and his son, John, is also lost but in a different way. Hilary receives a tip that his son may be living in an orphanage in France, and he goes there to investigate.It's a bleak novel—the theme of which is emotional expression. Hilary's constant struggle is whether to repress emotion, or to let it out. There's so much emotional fodder here—the death of his wife, the loss of his son—but he doesn't allow himself to actually express what he's feeling. This suppression of emotion is what makes this book so powerful, all the more so because this is a novel of self-discovery, too. It's only when Hilary manages to "find" himself that he opens himself up. Then there are the larger questions that Hilary finds himself asking: is the boy in the orphanage his? And if so, should he take on the care of him? What does Hilary really want, anyways? A neat, albeit dirty, twist happens towards the end of the novel that throws a wrench in his plans—unexpectedly, but maybe for the better.Apparently, the idea for the book comes from something that really happened—during the English Civil War, the young heir to a family that supported the Royalist cause was spirited away and taken to a French monastery to be educated. I always find the inspiration for a book fascinating; it's interesting to see where a writer's imagination can go. So I was fascinated by Marghanita Laski's gritty, bleak modernization of the story. I'm not sure that I liked Hilary all that much or the young women he takes up with, but Laski's depiction of a postwar France in which society has been shattered is chilling. It's also a subtle acknowledgement of the corrupt choices that many people were forced to make during the war in order to survive. Very well done.
Review by Girl_Detective
16/06/2015
"Little Boy Lost" was not at all what I expected, which was something like a hard-working soldier returns from the war to find his young son missing, then goes off to find him, at all costs. Instead, <em>Little Boy Lost</em> is far more interesting and complex. Hilary Wainwright had an English desk job in the war. He learns his wife, who's remained in France, has been killed by German troops, and believes his son dead, too. When he learns his son is lost and perhaps not dead, he can hardly bring himself to hope, as he's so steeled himself against loss and disappointment. When an acquaintance tells him he has a lead, Hilary does not rush off, but instead waits until the war is over, and even then drags his feet, conflicted with guilt and duty.Hilary meets an orphan boy named Jean who is the right age. But Jean remembers none of his past, and bears no resemblance to Hilary or his dead wife. Hilary struggles whether to take the boy even though he's not sure Jean is his son. He longs for a simple, childless life with his present girlfriend in England after the war. LBL is a book of its time, post WWII. Like noir books and films of the same era, its hero is ambivalent, and complicated. There's even sort of a femme fatale near the end who leads the hero astray. The tension about what will happen is drawn out skillfully to the very end, at which point the author pulls off one of the sharpest endings I've experienced. This book is a gem and a keeper.
Review by gaskella
16/06/2015
Imagine you only ever saw your baby boy just the once, then war intervened and your family was split. This happens to Hilary Wainwright, who goes to war leaving his wife and new baby in Paris to follow on, but they never do as the Nazis take Paris. Lisa later dies working for the resistance and the baby disappears. Five years later Hilary returns to find out what happened to his child – a colleague Pierre has found a likely candidate in a Catholic orphanage in a little town some way from Paris – but is this child really little John?I won't tell you any more of the plot, suffice to say that it is a tear-jerker, but it also got me doing the bookish equivalent of shouting at the telly - yes! Although you naturally have huge sympathy for his situation, Hilary is an intellectual who doesn't suffer fools gladly, and is always too quick to find everyone's little failings, while neglecting to see his own. He also dismisses Winnie the Pooh! I quote ...'I don't know any stories about little saints,' said Hilary, trying hard to remember what he himself had enjoyed when he was five. I have a horrible feeling it was Winnie the Pooh, he thought, but I'm damned if I'm going to introduce any child to that type of whimsicality. He started to wonder how far a parent could be justified in refusing to allow his child pictures or writings that he as an adult must condemn on aesthetic grounds – and was recalled by Jean pulling at his sleeve and urging, 'Please do begin.'The depiction of life immediately after the war in France is gripping, indeed the book was originally published in 1949. The little town in which Hilary finds himself is not only grey and decrepit, but also full of resentment between its inhabitants – some were 'collaborateurs'. The black market is thriving, and at the town's remaining rather nasty hotel, anything is available – at a price. It's not a nice place, but makes for a totally gripping read.
Review by helen295
16/06/2015
Little Boy Lost is the second book I've read by Marghanita Laski - the first was The Victorian Chaise-Longue. However, I found the two books entirely different. This one was far more emotional and a more gripping, compelling read.It's Christmas Day, 1943, when Hilary Wainwright first learns that his son has been lost. He had seen baby John only once - a brief glimpse of a little red face with dark hair poking out of a bundle of blankets. Then, while Hilary was away, his wife, Lisa, was killed by the Gestapo in Paris and their little boy disappeared almost without trace. When the war is over, Hilary goes back to France and with the help of his friend, Pierre, he begins to follow a trail which he hopes will lead him to his lost son.Laski does an excellent job of portraying the conflicting emotions Hilary experiences, torn between longing to be reunited with his son and worrying that if he does find him he might not want him. All through the book I was guessing what might happen - it wasn't really obvious what the outcome would be and I could think of several different possibilities, some good and some bad.The descriptions of post-war France are so vivid: the bomb-damaged buildings, the poverty, the food shortages - unless you were rich enough to take advantage of the black market, of course. And I was shocked by the descriptions of the conditions in the orphanages. As well as there not being enough to eat and drink, and a complete lack of any toys or games, it was chilling to think of children with tuberculosis living alongside the healthy ones.Although I was trying to avoid hearing too much about this book before I read it, I knew it was supposed to become very nerve-wracking and suspenseful towards the end. Well, I can tell you that this is definitely true! There are so many great books that are let down by a weak ending, but this is certainly not one of them. The tension throughout the final few chapters was nearly unbearable, so much so that I was almost afraid to reach the end. And I imagine most readers, like I did, will have tears in their eyes when they reach the very last sentence.Nicholas Lezard of The Guardian, who is quoted on the back cover, says it best: "If you like a novel that expertly puts you through the wringer, this is the one."
Also in the Persephone Classics series | View all