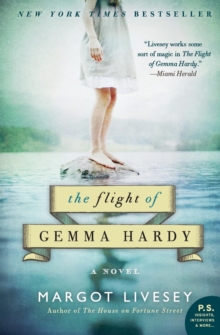 The Flight of Gemma Hardy : A Novel
Paperback
Description
The resonant story of a young woman's struggle to take charge of her own future, The Flight of Gemma Hardy is a modern take on a classic story-Charlotte Bronte's Jane Eyre-that will fascinate readers of the Gothic original and fans of modern literary fiction alike, with its lyrical prose, robust characters, and abundant compassion.
Set in early 1960s Scotland, this breakout novel from award-winning author Margot Livesey is a tale of determination and spirit that, like The Three Weissmanns of Westport and A Thousand Acres, spins an unforgettable new story from threads of our shared, still-living literary past. "Gemma is real-it's as simple as that. And through her eyes we see step by step what it means . . . to take possession of one's own life." -David Wroblewski, author of The Story of Edgar Sawtelle
Information
Format: Paperback
Pages: 480 pages
Publisher: HarperCollins Publishers Inc
Publication Date: 26/06/2012
ISBN: 9780062064233
Free Home Delivery
on all orders
Pick up orders
from local bookshops
Reviews
Showing 1 - 5 of 7 reviews.
Previous | Next
Review by LauraT81
16/06/2015
To start, I have mixed feelings about The Flight of Gemma Hardy. I do enjoy reading books inspired by classic literature, and Gemma Hardy is well written. However, to call this novel a homage to Jane Eyre is an understatement. It follows the plot of the classic almost to the letter with only a change to detail and a different time period, but with less passion and with *Spoiler * no crazy wife hidden in the attic.I really enjoyed the first half of the book, but the second half just ruined it for me and left me thinking, "What was the point in that?". I'm no expert, but I think a good 100 pages or so could have been cut from this novel to make it a better read.
Review by Florinda
16/06/2015
The literary sub-genre of "re-worked classics" seems to offer a good deal of potential discussion fodder. Are these works a more highbrow variant of fan-fiction? Do they have a built-in audience thanks to their basis in known source material, and is that a good thing or a bad thing? My short answers to those questions would be "depends," "probably," and again "depends," but longer, more thoughtful ones are certainly warranted.Margot Livesey's The Flight of Gemma Hardy reworks a particularly enduring classic, Charlotte Brontë's Jane Eyre. I've read the original just once, during my university-era phase of filling gaps in my literary experience. My response to it was largely indifferent (although I greatly preferred it to her sister Emily's sole novel, Wuthering Heights) and my recollections of it are vague on details (although they were sufficient to get me through Jasper Fforde's The Eyre Affair). For the most part, I like Jane as a character, but I really don't find Rochester or her relationship with him appealing; for me, ...Gemma Hardy's inspiration wasn't a compelling reason to read the novel. But as I learned more about the book's merits apart from its source material, I grew more interested, and I've been meaning to read Margot Livesey for a while. ...Gemma Hardy follows the basic framework of Jane Eyre: A bright young orphan is exiled to a terrible boarding school where she is treated more as laborer than student. When the school closes and she is forced to leave, she has few options and fewer resources, and takes a job as a live-in nanny/teacher at a remote estate, where she becomes intrigued by its mysterious master. However, Livesey has relocated the story's place and time to Scotland in the mid-twentieth century, and for me, the more modern setting was an asset to both plot and character development. She also uses Brontë's model of first-person narration, but gives Gemma a distinctive voice and a unique history; our Scottish orphan was born in Iceland, and is deeply curious to know more about her native land and whether she has family remaining there.Perhaps it's because I did only read it once and my memory is faulty, but I think of Jane Eyre as primarily a romance...and one that I don't find particularly romantic or convincing. ...Gemma Hardy's involvement with her employer/fiancé Mr. (Hugh) Sinclair is the Jane/Rochester plot, and while I found it somewhat more appealing here--mainly because I think Sinclair is a better-drawn character than Rochester--I still didn't find it terribly romantic or convincing. I preferred the novel before and after that, and was drawn to Gemma on her own, with her resourcefulness, intelligence, and drive. I didn't entirely buy the events of the last several chapters of the novel, but considering how Gemma came to them, they felt right.I'd like to revisit that fan-fiction question another time, but I do think that fiction based on other fiction does have certain potential advantages in attracting an audience. On the other hand, those same qualities can have the opposite effect, either turning fans of the original against the retelling or discouraging interest from non-fans. I fell into the second camp for a while with The Flight of Gemma Hardy and its Jane Eyre connection, but I'm glad I got over myself--for me, this was a more satisfying read than its inspiration.
Review by TheLostEntwife
16/06/2015
The Flight of Gemma Hardy was a tricky book for me. I picked it up on a cool evening and settled in to escape into a 1960's Scotland, ready to revisit some of the same elements from Jane Eyre that make the classic a favorite - and within the first few pages I was hooked.I devoured the story of Gemma as she struggled with her Aunt and cousins and was shipped off to a boarding school. I was hypnotized by the descriptions of school life, working life, and her struggles to find a place for herself. And about 1/4th of the way through the book I put it down to look at my sister and tell her, "This is a great book!"Then something happened - and I don't know if it is because it's tied to my least favorite part in Jane Eyre, or whether it was because the writing itself got confusing - but things started going downhill. I struggled to make the more modern connection of just why a marriage between Gemma and Hugh was bad, why there was such an issue with it all. Then came the more fanciful scenes with the running away of the main character and introduction of so many characters it made my head dizzy. So as much as I enjoyed the first quarter of the book, the final half made my head hurt and every bit of enjoyment I had fled, unfortunately. As much as I was looking forward to a modern re-telling of the classic, there are just so many elements that wouldn't work in a modern-day setting that the result ends up jumbled and messy.However, the reading was not a total bust- because I did truly love the first part of the book. It was fantastic, and the book is worth the read just for that part.
Review by TheLoopyLibrarian
16/06/2015
I was so excited to read this book because it is a somewhat modern (set in the 1960s) retelling of Jane Eyre. Jane Eyre is my favorite romance and one of my favorite books. The Flight of Gemma Hardy is well-written and enjoyable. I read it straight through. However, the dark Gothic elements that I so love about Jane Eyre, the intense, barely restrained love affair between Jane and Mr. Rochester, and the frightening events surrounding the mad-woman in the tower are either not present in this novel or are diminished in favor of its modern retelling in 1960s Scotland. I also did not love Gemma the way that I loved Jane. Gemma, although very strong-willed like Jane, is less forgiving and humble. Her will sometimes comes across as selfish rather than self-preserving. On the other hand, the childhood of Gemma was well-created, the settings of Scotland and Iceland were fitting and carefully, lovingly drawn, and the story was, if taken on its own merit, well-told. The problem I had was that I absolutely love Jane Eyre and expected to enjoy this retelling nearly as much. I liked it, but I did not love it. If anything, it made me long to go back and read Jane Eyre again.Favorite words:sporranmartinetpunnetschivvyFavorite quote: "Defiance was appealing, but it did not warm my cold room, it did not clothe me, it did not fill the long hours after school and chores" (p. 27).Favorite character description: (Mr. Milne)"…with his large head of grey hair and his round belly, he resembled nothing so much as a garden gnome" (p. 50).Latin phrase:modus vivendi: way of life or way of living
Review by 2chances
16/06/2015
An homage to Jane Eyre, and that's really all there is to say about it. Not great; not terrible. The Mr. Rochester character is kind of lame, and Jane is kind of lame, and they don't have the wit, sharpness, or tenderness of their Platonic forms. But an enjoyable read for an airplane.