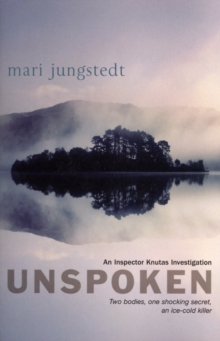 Unspoken : Anders Knutas series 2
Paperback
Description
"Strong characters raise questions of how well we know those close to us...gripping". (Financial Times). The dead man was a drunk; a regular on the park benches of Gotland's city centre.
He had been celebrating winning 80,000 Krona at the races.
His body is discovered by one of his drinking buddies: he is drenched in blood and someone or something has left a hole the size of a fist in the back of his head.
It's winter on the island of Gotland. The tourists have returned home. The tree branches are bare, the sky is sleet grey and the days are getting shorter and darker.
Winter is a quiet time for Chief Inspector Anders Knutas and Detective Karin Jacobsson; the tourists tend to take the violent crimes with them back to the mainland.
To keep their lives simple, they are tempted to assume that the victim died as a result of a drunken brawl over money.
But all of the clues point to something far more sinister.
Then 14-year old Fanny Jansson, a volunteer at the local stables, vanishes.
At first Knutas and Jacobsson find it hard to believe that the two cases are linked: one is a violent murder, the other, the disappearance of a lonely and isolated child who has probably run away. Painstakingly, they work the clues, assisted by ambitious TV reporter Johan Berg.
But what none of them realise is that truth is much closer to home than they'd ever imagine.
Information
Format: Paperback
Pages: 368 pages
Publisher: Transworld Publishers Ltd
Publication Date: 01/02/2009
Category: Crime & mystery
ISBN: 9780552156134
Free Home Delivery
on all orders
Pick up orders
from local bookshops
Reviews
Showing 1 - 1 of 1 reviews.
Review by smik
16/06/2015
Publishers Blurb:It is winter on Gotland, and fourteen-year-old Fanny is missing. She had no friends to speak of other than the horses she took care of at the local racing stable, and seems to have been an unhappy and isolated teenager, the daughter of an absent Jamaican musician and an instable Swedish mother. Is her disappearance somehow connected to the recent brutal murder of alcoholic photographer Henry Dahlström, who had won a large sum of money at the racetrack right before his death? Inspector Anders Knutas and his team investigate under pressure from the media.#2 in Jungstedt's Anders Knutas series is at once a Swedish police procedural set on the island of Gotland, as was the first in the series UNSEEN, and at the same time an exploration of how little people often know about each other, even in situations when they should. It is a book I've had on my mental list for some time.UNSPOKEN is a clever interweaving of three stories: firstly the disappearance of Henry Dahlstrom whose friends know almost nothing about him, and whose wife and daughter have long rejected. As is often the case it seems in modern murder mysteries Dahlstrom has sources of income that those closest to him knew nothing about.Fanny Jannsom was not yet fifteen and yet already her mother was assuming that she could be left alone overnight or even for weekends. Again, here is a person with no real friends, and with a secret life well hidden from view. but it is a life that Fanny really wanted to be rescued from.The third element was one that I had not expected. Reporter Johan Berg had a significant role in UNSEEN, and he became entangled with Emma, a friend of one of the victims. The continuing relationship between the two provides an interesting backdrop to the police investigation in UNSPOKEN, while Johan is constantly prompting Knutas for results.Jungstedt's is a lighter, almost uncomplicated style when you compare it to other Swedish writers like Henning Mankell and Nesbo, whose novels seem much darker. That isn't to say that Jungstedt isn't dealing with dark situations. I am tempted to compare it with Helene Tursten's particularly in the treatment of the domestic life of the central police character.
Also in the Anders Knutas series | View all