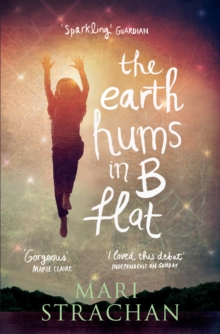 The Earth Hums in B Flat
Paperback
Description
Gwenni Morgan is not like any other girl in this small Welsh town.
Inquisitive, bookish and full of spirit, she can fly in her sleep and loves playing detective.
So when a neighbour mysteriously vanishes, and no one seems to be asking the right questions, Gwenni decides to conduct her own investigation.
Mari Strachan's unforgettable novel was one of the most acclaimed and successful debuts of 2009.
It is a heart-breaking and hugely enjoyable story.
Information
Format: Paperback
Pages: 346 pages
Publisher: Canongate Books Ltd
Publication Date: 06/05/2010
ISBN: 9781847673053
Free Home Delivery
on all orders
Pick up orders
from local bookshops
Reviews
Showing 1 - 4 of 4 reviews.
Review by dearkarla
16/06/2015
The Earth Hums in B Flat left me feeling a little uneven - I wasn't sure if I enjoyed it or wished that I hadn't continued past the first few pages. What I did like about it was the quirky, take-it-as-you-see-it outlook of Gwenni Morgan, who shares with us her musings (whether the New Testament tells us if animals have spirits) and injustices (her sister not keeping to her side of the hair ribbon in the shared bed). While I find Gwenni to be rather undeveloped and impressionable in her twelfth year, she is also wonderfully inventive and subject to whimsy, characteristics that give the book a lovely tone. Naivety aside, I was fascinated with how this young character digested the intimate and troubled stories of her fellow townsfolk, so that what we are exposed to is a series of complex characters in two dimensions. I quite liked that the disappearance of Mr Evans, the event that throws the town in to a closeted hysteria, is a simple 'mystery', apparent almost from the moment Mrs Evans opens the door with a bloodied mouth and distractedly welcomes Gwenni inside, yet it takes a novel-full of very clear pointers for Gwenni, reader of detective novels and future private detective, to put them together and share with us what we had already concluded. On reflection, I suppose that I did enjoy the novel, more than I had initially given it credit for. I know that I would certainly have no hesitation in recommending it to somebody looking for an easy read from a carefully written book, however I could not see myself re-reading it again in time.
Review by JacInABook
16/06/2015
The story is written as the narrative of Gwennie Morgan a twelve and a half year old girl. She takes us with her in an effortless and engaging way, her childlike simplicity showing us what life is like for her, and the inhabitants of an insular Welsh village, at some time during the 1950s. We are shown the perceptions that their lives are based on, and then, we discover that reality is not always the way it would have us believe. It begins with Ifan Evans going missing.I've said that the genre is mystery but not so much because of the disappearance of Ifan Evans and the detection that Gwennie undertakes; that is, in all fairness, a minor part of the story. But more for the counterpoint of the awakening of this young girl's mind, and the growing realisation of painful truths kept hidden.We, the readers, know very early what in all likelihood has happened to Evans although as it turns out we won't know all the details for quite some time to come, but Gwennie has the childlike mindset that things said are literal. It takes her well past halfway in the story before she reaches any kind of an inkling as to what really might have taken place and why. Looking on from this side of the book, I felt a deep sympathy for her as the upheaval to her life became more pronounced with every discovery she made.Mental health issues play a part in this story from beginning to end, and the story is a big one encompassing suicide, murder, adultery, illegitimacy, secrets, gossip and the ever present stigma attached to any behaviour that could be classed as 'odd' .I found that the subject matter was written in an even handed and unemotional way but with occasional flashes of humour. It could so easily have been steeped in misery, and whilst it isn't a happy tale neither is it one without hope, with that and with the personalities and voices of Gwennie and her neighbours, this book for me was captivating.
Review by SimoneA
16/06/2015
This book tells the story of a young girl in a small town in Wales. Gwennie is a special child, with a great imagination, who sets out to investigate some mysterious events in town. I liked this book mostly because of the writing style. The story itself and the characters are not very remarkable, but the way they are described is very lovely. The story is told entirely from Gwennie's perspective, in a style reminding me of The Curious Incident by Mark Haddon. This works very well, especially because the prose is really very nice. All in all, this is a beautiful read!
Review by nicola26
16/06/2015
This book definitely gets full marks for originality. I don't think I've ever read anything quite like it before. Both the writing style and plot were interesting and unique. I liked the setting a lot and also enjoyed all the interesting Welsh names. Gwenni was a likable enough character and she had an intriguing way of looking at things. The story moved a little too slowly for my liking though and I predicted the main plot twist from the start which was annoying. Most of the characters were pretty irritating and inconsistant and I didn't feel like Gwenni reacted normally to anything they said or did. Everything seemed to go way over her head. This may have been the point but I personally don't enjoy protagonists who have to have everything spelled out for them. Overall though, it was pretty good and certainly worth the read.
Also by Mari Strachan