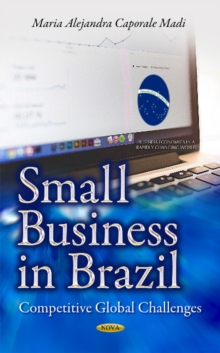 Small Business in Brazil : Competitive Global Challenges
Hardback
Description
In the current global scenario, business dynamics suffered deep transformations as a result of new patterns in wealth accumulation around the world.
In this context, profit-seeking strategies have stimulated the re-organization of companies with the objective of creating global competitive advantages.
In the Brazilian scenario, the vulnerability of small businesses has been put into question.
Indeed, small businesses have specific competitive features that restrict the level and continuity of its activities, such as lack of capital and technical knowledge.
Considering this background, this book is guided to answer the following research questions: 1.
Why do some micro and small businesses succeed in improving their performance while others do not? 2. What are the critical success factors that facilitate the increase in productivity, assets and employment? 3. How does the micro and small business' growth unfold?
There is undoubtedly the need to open up the discussion of some neglected aspects that will certainly broaden analytical perspectives, in both economic and social dimensions.
The aim of this book is to apprehend the challenges of small business dynamics in order to rethink policies that could favor strong bridges between entrepreneurs, government and financial institutions toward economic growth and social inclusion.
Chapter 1 refers to the global background where challenges and policies in the micro and small business sector are considered, including countries such as India, China, Russia and South Africa.
Chapter 2 presents the recent evolution of the Brazilian entrepreneur and the performance of micro and small business in order to focus the outcomes of the global financial crisis and the current entrepreneurial concerns, taking into account the manufacturing, commerce and services sectors.
Chapter 3 highlights a discussion on the concept of small business sustainability in order to analyze the factors that have affected the resilience of micro and small firms in the recent Brazilian trajectory.
Chapter 4 presents the financial challenges to micro and small firms in the context of financialization.
Chapter 5 deepens the understanding on challenges of micro and small firms, including management trends, labor qualification, innovation and exports, besides networking and clustering.
Finally, the conclusion presents a prospective analysis on the Brazilian micro and small business sector in the near future and proposes a set of measures for enhancing a policy agenda toward small business sustainability.
Information
Format: Hardback
Pages: 100 pages
Publisher: Nova Science Publishers Inc
Publication Date: 01/12/2015
Category: Economics
ISBN: 9781634820035
Free Home Delivery
on all orders
Pick up orders
from local bookshops
Also by Maria Alejandra Caporale Madi