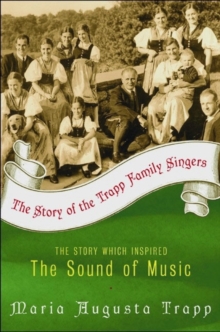 The Story of the Trapp Family Singers
Paperback
Description
With nearly 1,500 Broadway performances, six Tony Awards, more than three million albums sold, and five Academy Awards, The Sound of Music, based on the lives of Maria, the baron, and their singing children, is as familiar to most of us as our own family history.
But much about the real-life woman and her family was left untold.Here, Baroness Maria Augusta Trapp tells in her own beautiful, simple words the extraordinary story of her romance with the baron, their escape from Nazi-occupied Austria, and their life in America.Now with photographs from the original edition.
Information
Format: Paperback
Pages: 320 pages
Publisher: HarperCollins Publishers Inc
Publication Date: 24/12/2001
Category: Music: styles & genres
ISBN: 9780060005771
Other Formats
Paperback / softback from £16.95
Free Home Delivery
on all orders
Pick up orders
from local bookshops
Reviews
Showing 1 - 5 of 8 reviews.
Previous | Next
Review by JoolzMac
16/06/2015
`The Story Of The Trapp Family Singers' spans roughly the quarter century from the mid 1920s up to the end of the 1940s and is divided into 2 parts. Part 1 [the first 110 pages or so] roughly covers the period between Maria leaving Nonnberg monastery to join the Trapp family and closing with the momentous decision to leave Austria at the outbreak of war, incorporating her marriage, the family's loss of fortune and the start of their singing career. Part 2 picks up the story as they approach New York and goes on to describe 10 years of their lives as a professional singing group, settling down in Vermont, the death of the captain and the establishment of what would become the Trapp Family Lodge ski resort.It is probably reasonable to assume that almost anyone showing an interest in this book does so because of a desire to learn of the background to `The Sound Of Music`. In many ways the musical is faithful to the book, at least in essence, though don't be surprised to learn that a great deal of invention was employed, especially with the children who bear little relation to their real life counterparts. The main complaint is in the film's depiction of Georg as cold and aloof, something the family has been at pains to contradict ever since!Much like the musical, the book has a high `feel good' factor: it is infused with a rosy glow of goodness and warmth in which there is little room for negativity, and even less for any complaint or criticism, despite sudden reverses of fortune. Don`t expect any dirty linen to be aired here! Maria's easy-going prose style is wonderfully fluid and accomplished: it gladdens, it saddens, and sometimes it amuses, but always it enchants.Progressively, the reader becomes aware that the young free-spirited guitar-toting novitiate has become a strong and formidable woman capable of leading a large family, and perhaps dominating the captain who quickly recedes to a background role. It is clearly her drive and determination, and sheer force of character, that enabled the family to achieve almost the impossible, and was probably responsible for holding it together for so long.The book is liberally festooned with descriptions of the family's religious rituals and Maria's own faith as a devout Catholic, which can appear `preachy` at times. Some readers may find these aspects a touch excessive, yet it is part-and-parcel of the lady's character, and as such this old sceptic found it acceptable.The smaller Part 1 is the most relevant to `Sound Of Music' fans who will undoubtedly be entertained by scrutinising it in detail for similarities, discrepancies and surprising subtleties. Overall, it is an interesting and entertaining book that will handsomely reward both die-hard fan and casual reader alike.Of course, there is more outside the scope of this book: for further information on Maria's life, see her autobiography Maria which describes her upbringing as well as later years in USA; the wonderful memoirs of eldest daughter Agathe von Trapp Memories Before and After The Sound of Music are extremely interesting and highly recommended, particularly for a description of the family's earlier years before Maria arrived.
Review by CatheOlson
16/06/2015
I loved reading this memoir by Maria Trapp. The Sound of Music is one of my favorite all time movies so it was fun seeing where it came from. Trapp was a lot more religious than the Maria in the movie, which I guess figures because she had wanted to be a nun. Her zest for life and determination was so inspiring. I loved reading about some of the Austrian traditions which were similar to my parents German traditions and hearing the history of them.
Review by liibooks
16/06/2015
Maria tells a seemingly light and optimistic story about the Trapp family life in Austria before the war and their immigration to the US during the war. She describes about her family learning English, trying to be part of a new country, their ups and downs with concerts. She talks about learning to survive during tough times when they didn't have any concerts to play and about the many new friends they found in the USA.Even with all the bad things that happen to them she was still able to describe it optimism. When they were living in Austria and lost all their money, she even told her husband how happy she was about that. Only now after they lost it all, could they see the true character of their children. Maria's American friends told her that she must remember that they are now poor, Maria answered: "we are not poor, we just don't have money." She was right; people like the Trapp family can never be poor.This book is so sweet and the Trapp family was so loving and warm hearted with each other, almost too good to be true. It seemed more like a fairy tale than a true story to me. This is a great read for days when you feel sad or just need to be cheered up.
Review by johnkuypers
16/06/2015
So much more than the movie covers. Maria's faith and determination are a true inspiration as we see the full story of the von Trapp family after they escape from Austria
Review by briandrewz
16/06/2015
A very sweetly told story by Maria von Trapp, whose book and family inspired the movie "The Sound of Music". The book tells of the family's experiences in Austria and when the moved to the USA during WWII. The book lightheartedly tells of the difficulties they encountered during their first years in America. It's a wonderful story of family togetherness.
Also by Maria Augusta Trapp