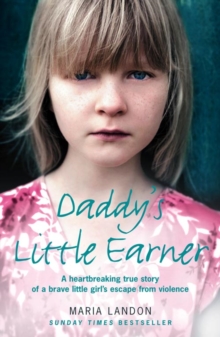 Daddy's Little Earner : A Heartbreaking True Story of a Brave Little Girl's Escape from Violence
Paperback
Description
The shocking story of a young girl forced into prostitution by her own father, and her painful journey to escape her horrific childhood and build a new life for herself and her sons. Maria's dad was a pimp, living in a world of thieves and street-walkers.
Her mother, tiring of turning tricks for her husband, walked out, leaving the children in his chaotic, violent and sometimes cruel care.
By the age of nine, Maria's father was abusing her and getting a prostitute friend to dress her up in stockings and make-up.
By the time she was fourteen he was selling her on the streets of the red light district in Norwich. Despite everything Maria still loved her swaggering and sometimes charming father and found it hard to sort out her own feelings.
At fifteen she ran away to King's Cross with an older lover who turned out to be just another pimp.
Furious at losing a nice little earner her father involved the police and both he and the other man were jailed for living off Maria's immoral earnings.
Only then could Maria escape her traumatic childhood and follow her dream of becoming a mother.
Information
Format: Paperback
Pages: 304 pages
Publisher: HarperCollins Publishers
Publication Date: 02/06/2008
Category: Autobiography: general
ISBN: 9780007268771
Free Home Delivery
on all orders
Pick up orders
from local bookshops
Reviews
Showing 1 - 1 of 1 reviews.
Review by littleton_pace
16/06/2015
A horrifying account of Maria's life, whose mother (abused and forced into prostitution by her husband, Maria's father) left the family when Maria was four, and which time her father began abusing her. Before she's ten, she's addicted to drugs, drinking and her father is sexually molesting her and preparing her to sell herself on the streets. She goes out "on the game" when she's eleven and continues into her late teens. It's a terrible story to have to read, and the almost lackadaisical way social services treats her is shocking, but believable. She's forgotten about. Some parts of it bugged me from the perspective she had given us. I feel like this would have been both terribly cathartic and painful for Maria to write about, to let everyone know what her early life was like and how she was treated by her own family. There are points though where I feel like she's not being honest with herself. For example, she claims "I wasn't a bully at all myself" yet mentions at least a dozen times that she beat people up to make herself "hard" and was always being pulled out of schools for fighting, including one situation where she and another girl throw hot tea on each other. It's quite clear reading her story that she WAS a bully, even if she doesn't like to think herself that way. Similarly, while talking about how often she took drugs and, in particular, Speed, she claims "I guess it was just luck that I didn't become dependent on it like most girls on the street." With everything she has told us up until this point, and what she goes on to do even after she her her son, it's hard to believe this statement she makes and has me wondering if she is just talking herself out of what really happened for fear of what she might find if she digs into that portion of her life. However she is open and clear with every other aspect so it would be odd, but this just stuck out to me as a reader. But I am reviewing this as a reader, not as any sort of doctor or therapist and I have no experience in the life that she lead, so my views are clearly of a biased nature. There's also a distasteful conclusion where Maria becomes focused on having a child so she has something to care for. When she has her son and goes back to drugs, drinking and prostitution; social services maintain she is a good mother and leave the baby in her care. It just seems horrible, yet I suppose it's the same mistake social services made with her mother when Maria was a baby. They let her stay in an abusive environment despite clear warning signs. All in all it's a moving and memorable novel, and one I am glad Maria was given the chance to tell. Recommended!
Also by Maria Landon