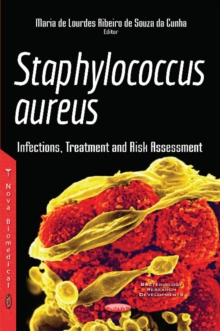 Staphylococcus aureus : Infections, Treatment & Risk Assessment
Paperback / softback
Description
This book provides an overview of the different topics of staphylococcal research in recent years.
Severe infections caused by methicillin-resistant Staphylococcus aureus (MRSA) have become a global health problem in the twenty-first century.
Chapter One discusses MRSA as a major cause of healthcare or hospital-associated infections (HA-MRSA) in burn patients, indicated as a high-risk group for invasive staphylococcal infection.
Types of MRSA, which have traditionally been tackled as exclusive agents of healthcare-associated infections, are now recognized as the causative agents of severe disease acquired in the community.
The second chapter discusses these infections as they occur mainly in special populations. For example, we may cite people living with HIV/AIDS, older adults living in long-term care facilities and patients with chronic diseases, notably diabetes mellitus.
In Chapter Three, a third epidemiological form of MRSA is discussed, which is known as livestock-associated MRSA (LA-MRSA).
Chapter Four emphasizes the current scenario of highly adaptable clonal complexes.
Among these strains, LA-MRSA belonging to clonal complex (CC) 398 are particularly important, and nosocomial infections caused by strains of CC398 are frequently reported.
Confirmation of the presence of microorganisms in blood cultures is one of the most important roles of clinical microbiology laboratories.
Blood culture testing - the gold standard for the diagnosis of sepsis - is able to elucidate the etiology of infection and to establish appropriate antibiotic treatment in order to improve the prognosis of septic patients and, consequently, to reduce morbidity and mortality; this is the subject discussed in Chapter Five.
Nosocomial infections manifest more intensely and more frequently in newborns when compared to children or adults.
Staphylococcus aureus infections in newborns is discussed in Chapter Six. Staphylococcus spp. are an important cause of peritonitis in peritoneal dialysis (PD), frequently requiring change of the dialysis technique and causing an important impact on the mortality of PD patients, another matter of great importance which is discussed in Chapter Seven.
Finally, the epidemiology and experimental evidence that S. aureus and its products, the superantigens, are directly related to the development or exacerbation of autoimmune diseases, which are discussed in Chapter Eight.
This book provides an excellent overview of the different applications of staphylococcal research for clinicians, researchers and students who intend to address these issues, and permits continued high-quality research involving these important pathogens.
Information
Format: Paperback / softback
Pages: 120 pages
Publisher: Nova Science Publishers Inc
Publication Date: 01/12/2016
Category: Infectious & contagious diseases
ISBN: 9781634859592
Free Home Delivery
on all orders
Pick up orders
from local bookshops
Also by Maria Maria De Lourdes Ribeiro De Souza Da Cunha