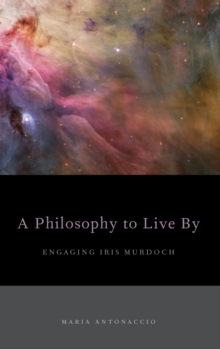 A Philosophy to Live By : Engaging Iris Murdoch
Hardback
Description
Iris Murdoch's philosophy has long attracted readers searching for a morally serious yet humane perspective on human life.
Her eloquent call for "a theology which can continue without God" has been especially attractive to those who find that they can live neither with religion nor without it.
By developing a form of thinking that is neither exclusively secular nor traditionally religious, Murdoch sought to recapture the existential or spiritual import of philosophy. Long before the current wave of interest in spiritual exercises, she approached philosophy not only as an academic discourse, but as a practice whose aim is the transformation of perception and consciousness.
As she put it, a moral philosophy should be capable of being "inhabited"; that is, itshould be "a philosophy one could live by."In A Philosophy to Live By, Maria Antonaccio argues that Murdoch's thought embodies an ascetic model of philosophy for contemporary life.
Extending and complementing the argument of her earlier monograph, Picturing the Human: The Moral Thought of Iris Murdoch, this new work establishes Murdoch's continuing relevance by engaging her thought with a variety of contemporary thinkers and debates in ethics from a perspective informed by Murdoch's philosophy as a whole.
Among the prominentphilosophers engaged here are Charles Taylor, Martha Nussbaum, Stephen Mulhall, John Rawls, Pierre Hadot, and Michel Foucault, and theologians such as Stanley Hauerwas, David Tracy, William Schweiker, and others.
These engagements represent a sustained effort to think with Murdoch, yet also beyond her, byenlisting the resources of her thought to explore wider debates at the intersections of moral philosophy, religion, art, and politics, and in doing so, to illuminate the distinctive patterns and tropes of her philosophical style.
Information
Format: Hardback
Pages: 288 pages
Publisher: Oxford University Press Inc
Publication Date: 26/07/2012
Category: Literary studies: from c 1900 -
ISBN: 9780199855575
Free Home Delivery
on all orders
Pick up orders
from local bookshops