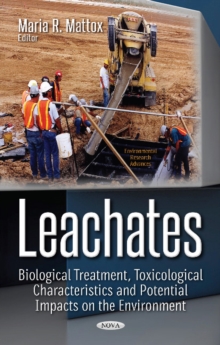 Leachates : Biological Treatment, Toxicological Characteristics & Potential Impacts on the Environment
Hardback
Description
In chapter one by Antoine P Trzcinski, Ph.D., a simulated Organic Fraction of Municipal Solid Waste (OFMSW) was treated in an anaerobic two-stage membrane process in order to develop and optimise said process, effectively allowing for improvement upon the current performances obtained with single stage designs.
In chapter two, Huu Tap Van and Van Tuyen Trinh present a study with the intent to improve current methods of removal of organic compounds from landfill leachate by Peozone.
In chapter three by Hamidi Abdul Aziz and Hossein Farraji, main hazardous compounds of LL and their expected effects on the environment are introduced, as well as plant-based treatment methods.
Next, chapter four by Adekunle A Bakare, Chibuisi G Alimba, Titilayo Hassan, Ebenezer O Ajayi, and Akindayo A Sowunmi explores the 96 h median lethal toxicity and cytogenotoxicity of a sawmill wood leachate from a sawmill dumpsite at Ibadan, Nigeria in Clarias gariepinus were investigated, providing further research on the DNA damaging potential of sawmill wood leachate (SWL) in aquatic vertebrates.
Free Home Delivery
on all orders
Pick up orders
from local bookshops