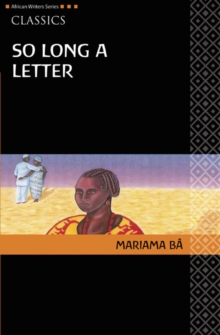 AWS Classics So Long A Letter
Paperback
Description
Written by Mariama Ba and translated from the French by Modupe Bode-Thomas, So Long a Letter won the first Noma Award for Publishing in Africa, and was recognised as one of Africa's 100 Best Books of the 20th Century in an initiative organised by the Zimbabwe International Book Fair. This edition includes an introduction by Professor Kenneth W.
Harrow of Michigan State University.
Information
Format: Paperback
Pages: 112 pages
Publisher: Pearson Education Limited
Publication Date: 30/05/1970
ISBN: 9780435913526
Free Home Delivery
on all orders
Pick up orders
from local bookshops
Reviews
Showing 1 - 4 of 4 reviews.
Review by annecheryl
16/06/2015
An epistolary novel, 'written' by a first wife to her friend, giving an account of her husband's taking of a second young wife and its consequences for the writer. Very moving and insightful. It deals with the so-called liberation of women in a newly independent Senegal, and also with the traditions that in fact bind them.
Review by meggyweg
16/06/2015
Meh. I just CANNOT get into African fiction. This is like the fifth African novel (by which I mean, novel by an African writer) I've read and disliked. I think it's a matter of personal preference though, and not the quality of writing. So Long a Letter provides great insight and detail into the culture of Senegal and polygamy in general. It's just Not For Me.
Review by Tea58
16/06/2015
So Long A Letter by Mariama Ba "So Long a Letter" by Mariama Ba is a spectacular book. Ramatoulaye is a widow when the novel begins. We meet her while she is in mourning. Soon, we learn about the other sorrows of her heart. Times throughout which she cried and cried. Her healing strength comes through writing this letter to Aissatou. Because the friendship means so much to her Ramatoulaye names her daughter after Aissatou. I thought this was a beautiful way of showing appreciation for a friend who always had a listening ear and a nonjudgmental heart. In this letter to Aissatou, Ramatoulaye gives details about her marriage to Madou Fall. This lengthy letter is like a flashback in time. Both Aissatou and Ramatoulaye faced the identical situation with their men. Each woman chose a different way to handle their new circumstances. Still, neither woman judges the other woman. I adored the book for so many reasons. I loved the friendship between the two African women. I enjoyed learning about the West African culture and I liked learning more about the African male. At the last page, I had my pen ready to write down other titles by Mariama Ba. Unfortunately, this is her first and last novel. "Ba died tragically in 1981 in Dakar after a long illness, just before her second novel Le Chant Ecarlate appeared. "So Long A Letter" by Mariamb Ba is translated from the French by Modupe Bode-Thomas.If anyone can translate the French phrase, I would appreciate knowing the name of the novel in English.
Review by laydonstorm
16/06/2015
This novel describes the life of a Senegalese woman and her struggles to survive in her religious society after having her husband taken from her by death and her co-wife. Ba does a decent job on characterization and exposition, however, leaves the reader feeling unsatisfied.
Also by Mariama Ba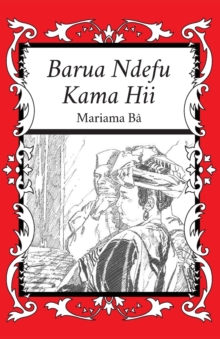 Also in the Heinemann African Writers Series: Classics series | View all