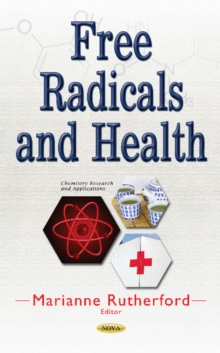 Free Radicals & Health
Paperback / softback
Description
This books reviews free radicals and health. Chapter One discusses the role of radicals in the impact of phenols on health and the environment.
Chapter Two describes the very recent development of new synthetic phenol-containing polymers as effective free radical scavengers in aqueous environments, such as a phenolic resin (particularly novolac resin) grafted with hydrophilic poly(ethylene glycol) (PEG) by click chemistry.
Chapter Three reviews the possible applications of radon therapy in veterinary care for oxidative stress-induced kidney damage.
Chapter Four examines how melatonin could be taken into account as a drug with uses for cancer treatment in combination with the current chemotherapeutic drugs, reducing the dose of these agents and the toxicity for the patient.
Chapter Five studies oxidative stress in rheumatoid arthritis.
Chapter Six presents facts that review how the health benefits of many phytochemicals in natural beverages may be the consequence of hormetic effect and cross-resistance from the auto-oxidation of antioxidants leading to the formation of H2O2, which activates one or more adaptive stress response pathways.
Information
Format: Paperback / softback
Pages: 140 pages
Publisher: Nova Science Publishers Inc
Publication Date: 01/12/2016
Category: Personal & public health
ISBN: 9781536101812