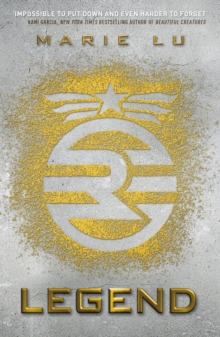 Legend
Paperback
Part of the Legend series
Description
For all fans of The Hunger Games - an epic YA dystopian romantic thriller Los Angeles, CaliforniaRepublic of AmericaHe is Day.The boy who walks in the light.She is June.The girl who seeks her brother's killer.On the run and undercover, they meet by chance.
Irresistably drawn together, neither knows the other's past.But Day murdered June's brother.And she has sworn to avenge his death.
Information
Format: Paperback
Pages: 304 pages
Publisher: Penguin Books Ltd
Publication Date: 01/02/2012
Category: Science fiction
ISBN: 9780141339603
Free Home Delivery
on all orders
Pick up orders
from local bookshops
Reviews
Showing 1 - 5 of 8 reviews.
Previous | Next
Review by DarkFaerieTales
16/06/2015
Review Courtesy of Dark Faerie Tales Quick and Dirty: I was on the edge of my seat the whole book! The story moves very evenly with action, interaction, and memories spread throughout. Opening Sentence: My mother thinks I'm dead. The Review: The first person narration switches each chapter from June to Day giving both views from the side of the law to the lawless of what takes place. June is very smart, independent, and loyal to her family and government. Day is also smart, independent, and loyal to his family and thwarting the government. June was raised in a rich and privileged family, and is on the fast track to becoming an important member of the Republic's military. Day is faceless criminal who only wants to make sure his family is safe from the Republic's corrupt system. June and Day support very different causes, but are more alike than each could ever know. At this point, Los Angeles is a rundown, plague stricken city that the government covers up with brutal military control and Jumbo Trons constantly blasting propaganda on every street corner. Extreme weather, war, and sickness have beaten the people of Los Angeles into submission, and the only people who have any power are those in the military. Education is only allowed to those who have passed the Republic's test. Those who fail are sent to work in labor camps, or worse. There are a lot of holes in the story because the government has pulled the wool over the citizens' eyes which June and Day work independently to find out. Figuring out what is really going on in this future America is one of the driving forces that makes this novel so intriguing. Corruption, murder, and inequality make for a terrible society, but a great book. Legend is full of conflict. Until June's brother is murdered, no one knew what Day looked like. This moment is what brought the two together as June goes undercover to enact justice for her brother's murder while also catching the most wanted criminal. June is conflicted internally about her brother's murder when new information suggests that Day might not have been responsible. Day actively antagonizes the government to make up for the injustices they caused him and his family. The Republic is in a long war with the Colonies and the rebel group, the Patriots. The Republic may even be quietly at war with its own citizens. All these different threads are woven together with the characters creates a very intriguing book that kept me reading until the very end. The characters of June and Day are different, but very likable. Both are strong, and feel the need to do whatever they think is right. This eventually gets both of them in trouble, but they work to do what they can to buck the system that has kept them in the dark. June is hard to convince, but she is not stupid, just stubborn and heartbroken that she may have been lied to all of her life. The people and system she trusted let her down. Day knew from a young age that the society he lived in was wrong, and that lead him to turn to crime as a way to get back at the Republic. This novel is fast paced, but also feels like the reader is living alongside the characters as they work through their issues. I particularly liked the interactions between June and Day as both learn from the other and eventually find at least one person they can trust wholly. Every single character in this book is fleshed out and convincing. When reading each chapter, I felt like I was June or Day, and every character felt as real to me as people in my own life. I really enjoyed Legend and I'm very excited to read the next installment! Notable Scene: I'm careful not to walk under the streetlamps. In fact, I would have traveled by rooftop if I weren't going to the financial sector, where guards line the roofs. All around me the JumpTrons blare their colorful campaigns, the sound of their ads distorted and jolty from the city speakers. One of them shows an updated profile of Day–this time featuring a boy with long, black hair. Next to the JumboTrons are flickering streetlights, and under those walk crowds of night-shift workers, police, and merchants. Every now and then, a tank rolls through, followed by several platoons of troops. (They have blue stripes on their sleeves–soldiers back from the warfront, or soldiers rotating out to the warfront. They keep their guns by their sides, with both hands on the weapon.) They all look like Metias to me, and I have to breathe a little harder, walk a little faster, anything to stay focused. I take the long way through Batalla, through the sector's side roads and abandoned buildings, not stopping until I'm a good distance outside of military grounds. The street police won't know I'm on a mission. If they see me dressed like this, equipped with infrared goggles, they'll question me for sure. The Arcadia bank lies on a quiet street. I go around the bank's back side until I'm standing in front of a parking lot at the end of the alleyway. There, I wait in the shadows. My goggles wash most of the color out of the scene. i look around and see rows of city speakers on the roofs, a stray cat whose tail twitches over the lid of a trash can, an abandoned kiosk with old anti-Colonies bulletins tacked all over it. The Legend Series: 1. Legend FTC Advisory: Penguin Teen provided me with a copy of Legend. No goody bags, sponsorships, "material connections," or bribes were exchanged for my review.
Review by cay250
16/06/2015
Fifteen-year-olds June and Day live completely different lives in the Republic located in western half of U.S. June is rich and brilliant, the only candidate ever to get a perfect score in the Trials, and is destined for a career in the military. Day, on the other hand, is a slum child who failed his own Trial. He's also the Republic's most wanted criminal. When tragedies strike both their families, the two teens are thrown into direct opposition. In alternating first-person narratives, Day and June experience coming-of-age adventures in the midst of spying, theft and daredevil combat. A quick read with standard post-apocalyptic setting—plagues, class warfare, evil soldiers—with an ending that leaves you hanging and waiting for the sequel
Review by Decroote
16/06/2015
Legend tells the story of two completely opposite teens connected by a peculiar event. June is a rich, intelligent, and beautiful girl destined to be a military captain. Day is a poor, kind, and attractive boy who happens to be the country's most wanted criminal. Day has committed many crimes, and is hated by those who do not know him personally. Those who are close to him know that his crimes involve stealing food and money to feed his family. Day is accused of murdering June's brother. Determined to avenge her brother's death, June sets out on a mission to find Day. The mission seems simple enough, but as June continues the hunt she reveals secrets about her own past, Day's past, and the truths of the government she lives under. Legend is a fast paced novel, loaded with action and dialogue. It is a quick read that will leave you wanting a sequel!
Review by tripsis
16/06/2015
If you're a cover whore like me, do not push this book aside because of the cover! There were at least 5 times where I saw a review or post about this book and just skipped over it because I thought the cover was dull, boring, self-published-looking, and not that eye-catching. Finally, after some pushes and prods from fellow bloggers, I gave this book a chance. I'm so glad I did. I'll let this quote speak for the awesomeness of the book:<i>"I will hunt you down. I will scour the streets of Los Angeles for you. Search every street in the Republic if I have to. I will trick you and deceive you, lie, cheat, and steal to find you, tempt you out of your hiding place, and chase you until you have nowhere else to run. I make you this promise: your life is mine."</i>Okay, so when I finally got passed the cover, I opened up the book and was shocked. The typeface. It was different. The colour. It was…. gold? It's so unique! I had never seen anything like it. All of Day's chapters are in this never-before-scene-in-a-book typeface (it's not that extravagant — it's just different from the standard so often seen), and June's are in a more standard typeface with black ink. So cool!The story in this book is just so incredibly intriguing. We have June: the amazingly intelligent genius prodigy who's training to join the most exclusive military branch. Then there's Day, born in poverty and a criminal on the run. Then Day is suspected of killing June's brother, so June vows to hunt him down and seek revenge (see epic quote above). She goes undercover, tracking Day and pretending to be a poor girl from the slums. Then she meets Day, but doesn't know it's him, and starts travelling around with him. Soon enough she finds herself liking him (and vice versa).. like really liking him. Like "You're a sexy beast" liking him. OH MY GOD!! Tell me that doesn't sound awesome! It sounds like the kind of action thriller TV shows or movies I like to watch.. but wrapped up in a YA dystopian sci-fi romance! Hello, incredible book. My name is Ashley and I love you. Would you like my unborn children?I don't even know where to really begin with this review (although I guess I've started already lol). All the characters are amazing. June is totally kick-ass. She almost reminds me of Sherlock Holmes in her attention to detail. She's the kind of person who truly observes everything around her and uses the tiniest details to draw conclusions. She's incredibly strong and proud, but more than anything, she wants to do what's right. Even when she absolutely hates Day for supposedly murdering her brother, she still doesn't want to see any unwarranted violence or torture. And Day… Day is kind of like Robin Hood. Sure he's a criminal, but he only steals so he can survive and help his family and community get food and medicine. And that only touches the surface. All of the side characters are equally as interesting and I either love them or love to hate them.Legend is so action-packed and there's never, ever a dull moment. The plot is always progressing and kept me on my toes the entire way through. The romance that develops is one of the most interesting I've ever seen because of the circumstances, but it's also totally swoon-worthy. Legend also toyed with my emotions quite a bit. June takes us through some of her memories with her brother Metias, and after knowing what happened to him, I was totally getting teary-eyed. It's devastatingly sad and made me wish I had a brother like him (one who doesn't get killed!).There was zero doubt in my mind that I'd give his book 5 stars and mark it as one of my all-time favourites. I didn't even have to stop and ponder. I ended this book in a complete daze; my imagination was in overdrive and trying to process all the awesomeness in this book!
Review by alaiel.kreuz
16/06/2015
Completely action packed Legend kept me turning page after page without a break. I can't believe I waited so much time to read it, seriously, this book has been in my TBR for more than 6 months and now that I finally picked it up I just want to kick myself for waiting so long!Marie Lu's writing style is unique, fresh, exhilarating and voracious. She always managed to kept my attention focused on the characters, their surroundigs and the action. Lots of action.But let me clarify this, when I say action I mean two types. First the type that has bombs, guns, fighting and a lot of running. And then the type that has a lot of things going on no-stop, you know? The kind that doesn't let you breath and you are every so often opening your mouth in a big O and muttering things like "what?! how... when... what?!" or my favorite "*speachless* *gasp* *faning myself*" while my sister asks "What? What happened? You have to tell me!!!" 'Cause, you know, we spent this weekend together and she doesn't like to read as much as I do so I have to tell her the whole book in parts. Let's just say she loved my short version as much as I loved the book, hahaha.I enjoyed to see the story from Day and June's POV; both of them gave depth to the plot in every page and their voices felt as real as life itself. In fact I would do anything to have the chance of reading Prodigy, the second book, right away.I want to know what happens next, I want to fight alongside them and help them unravel the truth. I desperately want to share more moments in their company and get to know them better.So yes, as you can tell I recommned this book a lot. Buy it, borrow it, don't know, I would say steal it but that would be bad so just ask your friends if they have it and I assure you that, after finishing it, you will buy your own copy and wait with me for book two :]