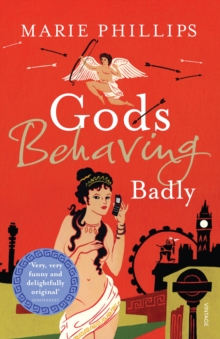 Gods Behaving Badly
Paperback
Description
Being immortal isn't all it's cracked up to be. Life's hard for a Greek god in the 21st century: nobody believes in you any more, even your own family doesn't respect you, and you're stuck in a delapidated hovel in north London with too many siblings and not enough hot water.
But for Artemis (goddess of hunting, professional dog walker), Aphrodite (goddess of beauty, telephone sex operator) and Apollo (god of the sun, TV psychic) there's no way out...
Until a meek cleaner and her would-be boyfriend come into their lives, and turn the world literally upside down. Gods Behaving Badly is that rare thing, a charming, funny, utterly original first novel that satisfies the head and the heart.
Information
Format: Paperback
Pages: 288 pages
Publisher: Vintage Publishing
Publication Date: 01/05/2008
ISBN: 9780099513025
Free Home Delivery
on all orders
Pick up orders
from local bookshops
Reviews
Showing 1 - 5 of 16 reviews.
Previous | Next
Review by nicolemaddock
16/06/2015
Not only was this a surprise and random read for me, it was fantastic! As a classics major, I was skeptical at first. I'm very picky because I have too much background knowledge in this area to be able to enjoy something that is only loosely correct. Turns out I had nothing to worry about. The characters of the Gods and Goddesses were excellently portrayed and all mythological details were there. Phillips didn't just get the details right, she created a light and lively story, while very cleverly inventing the Gods of Greek mythology, in all their glory and immorality, in a story set in 21st Century London.This book is quirky and fun with a wonderful ending. I think anyone interested in classical mythology would get a real kick out of Gods Behaving Badly. I think anyone would find this book enjoyable for that matter. I wouldn't miss this one!
Review by Goldengrove
16/06/2015
I quite liked this, to begin with, fun idea, well executed. But I wasn't impressed with the ending, which felt rushed and unsatisfactory. I must confess, also, to some annoyance with the 'Christianity is dull and boring, and this is so much more fun' attitude throughout, but I don't suppose that would annoy everyone.
Review by phoebesmum
16/06/2015
The Greek pantheon, fading away for lack of belief, is living en masse and in squalor in a suburb of London. Aphrodite is working a phone sex line. Of course she is. Clever; not as original as it seems to think it is.
Review by TPauSilver
16/06/2015
This book is quick and easy to read, which I suppose recomends it in a way. The gods are nicely characterised though I'm not a big expert on mythology so I can say I know if they're incredibly accurate, or that it bothers me if they are or aren't, but they have the feeling of how gods used to be which is nice. It did bother me how much they relied on characatures of stereotypes to get laughs (the nerdy middle aged man who can't express his feelings, the accademic who can't speak in such a way as to make herself understood). I didn't find any of that particularly funny. The non-god characters also felt flat and uninteresting.
Review by brokenangelkisses
16/06/2015
The basic premise of the story is simple: imagine if the Greek Gods were still living, or existing, in a decrepit house in Islington. They are the same squabbling, bickering, incestuous family that myths were made of, but their powers are waning and they are entirely disregarded by the mortals that they consider so unimportant. Their powers and responsibilities remain true to history, but Phillips has given them appropriate, modern jobs; gorgeous Aphrodite is a phone sex worker while her attention-seeking nephew and lover Apollo plans to make his debut as a TV psychic. Due to various revenge plots, a mythic quest ensues after a mortal cleaner with a would-be boyfriend is employed to restore some kind of order.After Artemis meets a surprising tree, the narration initially follows various characters to establish their role. Phillips acutely conveys the boredom the gods are enduring by showing the mundane nature of even supposedly exciting moments and suggesting that one character's revenge on another might be 'swift and no doubt deadly, but at least it would pass the time.' The introduction of the human characters seems dull in comparison; this may be intentional, to suggest that their humdrum lives need livening up. Indeed, although they like each other, they seem barely able to admit this to themselves, let alone each other. Their circumspection is almost irritating and it is through their later involvement with the gods that theirs becomes an epic love story.Drawing on events and roles from mythology, Phillips drops hints and updates the details of the gods' lives throughout the novel. Her style is easy to read and follow, until poor Athena, who is the goddess of wisdom but fails to communicate her brilliant ideas to the others since, as Artemis notes, 'wisdom and clarity are not quite the same thing'. Many turns of phrase are amusing but ultimately the humour of the novel is drawn from the twists and turns that result from character interactions and conversations: Alice's response to Apollo's elaborate description of life in ancient Greece; a guard's puzzled response to Neil; the way Artemis announces her presence and role to the same guard.Although this is a very humorous and often enjoyable tale, it is not a particularly meaningful or exciting one and seems unlikely to stick in the mind. The ending itself, without giving away any details, removes all possibility of real tragedy and seems undeveloped. A good beach read, but there is nothing here to really challenge the mind.