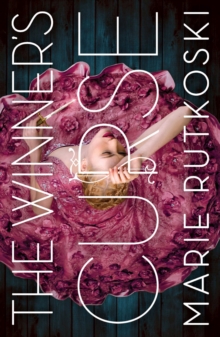 The Winner's Curse
Paperback
Description
As a general's daughter in a vast empire that revels in war and enslaves those it conquers, Kestrel has two choices: she can join the military or get married.
Kestrel has other ideas. One day, she is startled to find a kindred spirit in Arin, a young slave up for auction.
Following her instinct, Kestrel buys him - and for a sensational price that sets the society gossips talking.
It's not long before she has to hide her growing love for Arin.
But he, too, has a secret and Kestrel quickly learns that the price she paid for him is much higher than she ever could have imagined.
The first novel in a stunning new trilogy, The Winner's Curse is a story of romance, rumours and rebellion, where dirty secrets and careless alliances can be deadly - and everything is at stake.
Information
Format: Paperback
Pages: 368 pages
Publisher: Bloomsbury Publishing PLC
Publication Date: 03/07/2014
ISBN: 9781408858202
Free Home Delivery
on all orders
Pick up orders
from local bookshops
Reviews
Showing 1 - 2 of 2 reviews.
Review by Staciesnape
16/06/2015
I heard about this book pretty late but it was the cover the attracted me at first, then after reading the summary I wasn't exactly too sure. However I did pick it up and decided to give it a go and well, I have not and will not regret my decision.CharactersKestrel : at first I thought she was just a spoilt little rich girl with too much time on her hands and too much money to spend. But as the book went on I realised how wrong I was. She was someone who even though she had lots of friends, just wanted someone to really talk to, something she thought she found in Arin. She is someone who even though she doesn't want to fallow in her fathers footsteps and join the army, would love nothing more to make him proud and live up to his expectations. She has such a kind heart and even though at times it seems to get taken advantaged of, she still holds her head up high and is a strong minded young women. In all honesty, I loved her. Very much.Arin: oh Arin, what can I say about him without just going of in a dreamy daze? haha. Arin is, well Arin. A young man who has very hidden agendas, and whilst at times makes it look like he could be stringing poor Kestrel along, really cares about her despite his better judgements. He's rude at times, cocky and in a way arrogant but those are things that just make me love him more. He's so different to Kestrel its unreal, and no just because they are different races. He is mean and tough but also kind and gently. He a different person when he is around Kestrel and its not easy to fully describe so you'll have to just read the book. hahaMy thoughts?as I can only speak for myself, I will tell you that I found the story lovely, I found the world building and story telling to be second to none and I love how easily the book flowed. The character were extremely well written and developed, and I actually believed the tension and passion between the two, something that doesn't happen often with me. In short I just loved everything about it and I'm deeply saddened that I have to wait so long for the next one. High society (or what ever you want to call this type of genre) was something I hadn't had a lot of experience with, the first one I can recall being These Broken Stars, I was blown away by that book as I was by this and if the rest of the books in this genre are like the two I'm really looking forward to reading some more.Don't just take my word for it, go out and read it yourself. Maybe you will get caught by the bug like many of us and maybe you wont, you'll never know till you try :)"You might not think of me as your friend,' Kestrel told Arin, 'but I think of you as mine."
Review by wyvernfriend
27/08/2015
There were some things that just didn't quite work well for me in this but overall I enjoyed the read and found it interesting. In a world where Kestrel is a member of the ruling class who are ruling over a race who are enslaved, she has two choices in her life, the military or marriage, she chafes against these restrictions and wants a life of her own and choices of her own, when she gets caught up in a rebellion her life will never be the same again.It's interesting but somehow some of the worldbuilding felt a bit weak. I liked how the politics worked out and how the choices were a best of a bad lot. I'm looking forward to reading more by this author.
Also in the The Winner's Trilogy series | View all