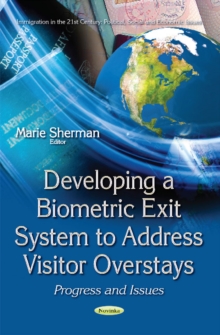 Developing a Biometric Exit System to Address Visitor Overstays : Progress & Issues
Paperback / softback
Description
Each year, millions of visitors come to the United States legally on a temporary basis.
Overstays are individuals who were admitted legally on a temporary basis but then overstayed their authorized periods of admission.
The Intelligence Reform and Terrorism Prevention Act of 2004 required the Secretary of Homeland Security to develop a plan to accelerate implementation of a biometric entry and exit data system that matches information provided by foreign nationals upon their arrival and departure.
Since 2004, the Department of Homeland Security (DHS) has tracked foreign nationals entries into the United States, and since December 2006, a biometric entry capability has been fully operational at all ports of entry.
However, the United States Government Accountability Office (GAO) has identified a range of challenges that DHS has faced in its efforts to deploy a corresponding biometric exit capability.
DHSs U.S. Customs and Border Protection (CBP) is primarily responsible for implementing a biometric exit program.
This book addresses DHSs efforts to review its records to identify potential overstays; the extent to which DHSs changes in its systems or processes have improved data on potential overstays and DHSs ability to report overstay rates; and the extent to which DHS has made progress toward establishing a biometric exit system.
Information
Format: Paperback / softback
Pages: 75 pages
Publisher: Nova Science Publishers Inc
Publication Date: 01/09/2016
Category: Migration, immigration & emigration
ISBN: 9781634858113