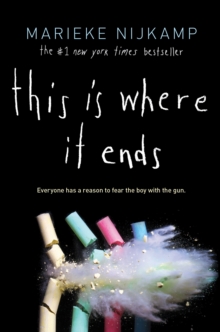 This Is Where It Ends - IE : International Edition
Hardback
Information
Format: Hardback
Pages: 288 pages
Publisher: Sourcebooks, Inc
Publication Date: 05/01/2016
Category: Horror & ghost
ISBN: 9781492622468
Free Home Delivery
on all orders
Pick up orders
from local bookshops
Reviews
Showing 1 - 3 of 3 reviews.
Review by JeracaFite
17/03/2016
I received this free eARC from Edelweiss in exchange for my honest review. 3.5 stars. This was such an eerie, chilly, terrifying and emotional novel. There were times I think the author should have stuck with the hear and now of what was going on at the school, but when she went into the background story and brought attention the little things with each of the 4 characters, it made the situation even more depressing. Autumn - sister of the shooter. Has a very hard life at home with a crap of a dad and now a terrible brother who made a terrible name for himself. A dancer. A girlfriend. She is so brave and she has such big dreams for herself after high school. I feel for her something fierce for what she went through in that hour at school. Sylv - girlfriend to Autumn. Going through a terrible time with her sick mother. Has terrible memories of the shooter before this happened. And she wanted to be brave for Autumn. Even though she was terrified of what would happen, she was brave. Tomas - twin brother of Sylv. Wasn't in the auditorium when the shooting became, but became a hero to save his sister. Was also an ex-friend to the shooter and very loyal to his sister. He got to use his lock picking skills to good use getting into the auditorium and was very humorous in a grave time. Claire - senior, JROTC, track runner. She was at track practice outside when she heard the gunshots and ran for help. Also ex-girlfriend to the shooter. She ran her ass off to get help for her friends and her little brother who were in the auditorium. All four of the students plus every other student member at this high school went through an event that is made of nightmares and I feel like Marieke Nijkamp did a fantastic job making this book feel extremely realistic. I can see both good and bad reviews of this novel when it's published. I liked it, but there were things that could be changed to make it an extraordinary novel. This is a novel that will stick with a person well after they have read it. But the subject matter alone should be haunting to any reader in the world.
Review by lostinalibrary
17/03/2016
It's the beginning of the school year and the end of the same boring welcome back speech by the principal when the door of the auditorium opens and a former pupil steps in and begins a shooting rampage. The entire event lasts only 54 minutes but the impact and devastation are unfathomable.This is Where It Ends by author Marieke Nijkamp is told from several perspectives including Autumn, the shooter's sister and Sylv, her girlfriend, both in the auditorium; Tomas, Sylv's twin brother and school cutup who is in the principal's office but will risk it all to save his sister; and Claire, ex-girlfriend of the shooter, who is outside the school when the shooting starts but whose brother is in the auditorium. This is a fast read on a very emotional and topical subject but Nijkamp handles it fairly well. By reducing the time period, she portrays the chaos and terror of the event without, for the most part, going for the easy tear jerk – the characters react rather than analyze. Although many of the characters act in heroic ways, some of their reactions seem pointless or even counterproductive given the situation but I suspect that that is true in real situations like this. One caveat: this is a YA novel but there is a lot of violence so it may be unsuitable for the younger reader.
Review by Beammey
17/03/2016
When you read the blurb for this book you know there's going to be a lot of death and destruction seeing as what the book is about, but I thought it was true to what students and teachers would be feeling at a time like this. As school shootings become more common, I think this is a good book for anyone to read. It isn't incredibly graphic, but there is a lot of death and some surprises as well. I would recommend this book. 5 out of 5 stars.
Also by Marieke Nijkamp