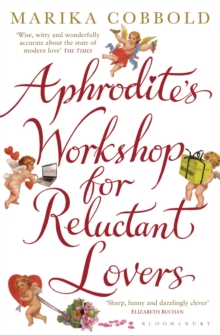 Aphrodite's Workshop for Reluctant Lovers
Paperback / softback
Description
Rebecca Finch is a highly successful romantic novelist who has fallen out of love with love.
When she heads off for a weekend in Paris and doesn't care that she has absent-mindedly left her boyfriend on the platform in Waterloo, things look bad.
But when her god-daughter, struck with pre-wedding jitters, asks Rebecca if marriage is a good idea, and she can't think of a single reason to reply 'yes', she realises it's serious.
The 'High Priestess of Romance' is having a crisis of faith.
On Mount Olympus, things aren't any easier. Aphrodite is stressed because divorce rates are rocketing and nobody is taking her seriously any more, and Eros, going through a difficult phase, seems to be carelessly shooting arrows without even a thought for the basic compatibility of his victims.
So with even her favourite earth-bound acolyte, Rebecca Finch, showing signs of disillusionment, Aphrodite resolves to take drastic action
Information
Format: Paperback / softback
Pages: 320 pages
Publisher: Bloomsbury Publishing PLC
Publication Date: 01/02/2010
ISBN: 9781408800737