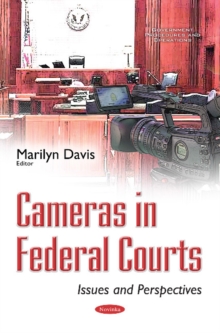 Cameras in Federal Courts : Issues & Perspectives
Paperback / softback
Description
The issue of whether or not to allow video cameras into the courtroom has been discussed and debated by Members of Congress, the legal community, journalists, and the public since the introduction of newsreel films in the early 20th century.
Technological advances have shifted some of the considerations in this ongoing dialogue, as newsreel cameras gave way to television cameras and Internet video.
Increasingly, new technology makes video recording less disruptive, accessible to more people, and able to be distributed quickly, if not instantaneously.
Most state courts, and several international supreme courts, allow video cameras to record and televise, or otherwise broadcast, their proceedings under certain circumstances.
This book is not intended to provide a legal analysis of court cases relevant to the use of video cameras in federal courtrooms.
This book provides information about the current judicial policies and attitudes related to video camera use in the U.S.
Supreme Court, federal circuit courts, and federal district courts; summaries of the major debates and considerations for policymakers on the subject of courtroom cameras, including the appropriateness of congressional action, standards for public and media access to the courts, and potential effects on courtroom proceedings; descriptions of the four legislative proposals currently before the 114th Congress, including the Cameras in the Courtroom Act (H.R. 94 and S. 780), the Sunshine in the Courtroom Act (H.R. 917 and S. 783), the Transparency in Government Act (H.R. 1381), and the Eyes on the Courts Act (H.R. 3723); and complementary policy measures that might accomplish similar objectives.
Information
Format: Paperback / softback
Pages: 71 pages
Publisher: Nova Science Publishers Inc
Publication Date: 01/12/2016
Category: Courts & procedure
ISBN: 9781536100310