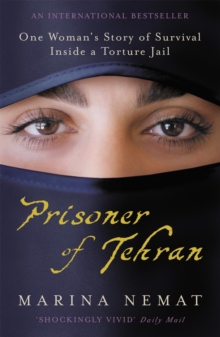 Prisoner of Tehran : One Woman's Story of Survival Inside a Torture Jail
Paperback
Description
Brought up as a Christian, Marina Nemat's peaceful childhood in Tehran was shattered when the Iranian Revolution of 1979 ushered in a new era of Islamic rule.
After complaining to her teachers about her Maths lessons being replaced by Koran study, Marina was arrested late one evening.
She was taken to the notorious prison, Evin, where interrogation and torture were part of the daily routine.
Aged sixteen, she was sentenced to death. Her prison guard snatched her from the firing squad bullets but exacted a shocking price in return: marriage to him and conversion to Islam.
Marina lived out her prison days as his secret bride, spending nights with him in a separate cell.
Marina struggled to reconcile her hatred towards Ali and her feelings of physical repulsion with the fact that he had saved her life.
When Ali was murdered by his enemies from Evin, and saved Marina's life for a second time, her feelings were complicated even further.
At last she was able to return home, to her family and her past life, but silence surrounded her time as a political prisoner and the regime kept her under constant surveillance.
Marina's world had been changed forever and she questions whether she will ever escape Iran and its regime or be free of her memories of Evin.
Information
Format: Paperback
Pages: 304 pages, 1 x 8pp black & white
Publisher: Hodder & Stoughton General Division
Publication Date: 15/05/2008
Category: Autobiography: general
ISBN: 9780719562525
Other Formats
EPUB from £4.99
Paperback from £7.39
Free Home Delivery
on all orders
Pick up orders
from local bookshops
Reviews
Showing 1 - 3 of 3 reviews.
Review by glitterlife
16/06/2015
Great story, very well written and really impresive how this woman handeled her ordeal in Iran.Great read!
Review by meggyweg
16/06/2015
I found this to be a fascinating, well-written memoir, and highly recommend it. The author's story is certainly worth telling. Arrested as a political prisoner at age 16, she was sentenced to death for "crimes against the state" after Iran's Islamic Revolution. Marina's life was saved by a guard who fell in love with her; she was then forced to marry him on pain of her family being harmed. Marina's story made me feel grateful to live in a country where such things don't happen. I also found it very impressive that she did not paint everything in shades of black and white, and was even able to show the human, kind side of the guard who threatened her loved ones, married her against her will and raped her.I would recommend this book for anyone interested in the Middle East. I think it would also be good for use in the college or high school classroom.
Review by priscillamylove
16/06/2015
It is well written, in that the author, Marina Nemat, didn't put the horror or being a prisoner into everything she wrote. Throughout the book when the violence, or horrors became too much, she would swtich us to memories that led up to her arrest, and inprisonment at the Evin Prison.She was only 16 when she was arrested, tortured and sentenced to death for political crimes. Up to then, her life was more of a typical teenagers life, school, summer parties at the lake, and her relationship with Andre, a young man she met at church.Sentenced to death, but Ali, an interrogator, intervened just moments before her scheduled death. Ali was able to get her sentence reduced to life, although Marina did not think it was fair. Death would have been better than the torture of lifeAli then went to the front lines of the Iran war & didn't return for months. Once he did return, he dropped a surprise on Marina, he wanted to marry her, he couldn't get her off his mind, even being at the front. And if she didn't want to marry him, well her family may come to some harm.Marina gave in and married Ali. If only to protect her family, but Ali was also able to get her life sentence reduced by having a new trial.Meanwhile, Ali's family insisted that Marina convert to Islam. After being a Christain her entire life, this was very hard for her to do, but she had no other choice. She felt that God wasn't there for her in many ways anyways.Married, and trying to have a life together, Marina becomes pregnate. Unsure if she feels joy at this turn of events or not.Then one evening as they were leaving Ali's parents home after dinner, Ali was shot down in murder. He did manage to push Marina to the ground, so she wasn't hurt, saving her life. Unfortunatly, she did lose the baby.Freed from her forced marriage, Marina was now able to try & continue the life she once knew before being a political prisoner. Andre, her love, had waited for her. They were married and after her husband worked for the University for 3 years, they were able to emmigrat to Canada, where they live now with their 2 children.The loose end I felt in this book was her religion, or faith. She never talked about it again after converting to Islam. SHe was married to Andre in the church, and she mentioned that it was risky, since the government was watching her and converting to Christianity was something that was not allowed, but she never addressed her own faith.It was a good book, and it's one that I will keep and read again, but it's so annoying when I'm laying in bed, trying to fall asleep and all I can think about are loose ends in the book I just read.
Also by Marina Nemat