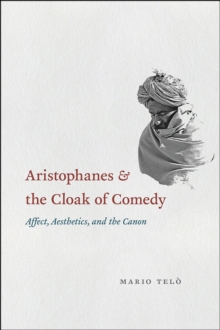 Aristophanes and the Cloak of Comedy : Affect, Aesthetics, and the Canon
Hardback
Description
The Greek playwright Aristophanes (active 427-386 BCE) is often portrayed as the poet who brought stability, discipline, and sophistication to the rowdy theatrical genre of Old Comedy.
In this groundbreaking book, situated within the affective turn in the humanities, Mario Telo explores a vital yet understudied question: how did this view of Aristophanes arise, and why did his popularity eventually eclipse that of his rivals?
Telo boldly traces Aristophanes's rise, ironically, to the defeat of his play Clouds at the Great Dionysia of 423 BCE.
Close readings of his revised Clouds and other works, such as Wasps, uncover references to the earlier Clouds, presented by Aristophanes as his failed attempt to heal the audience, who are reflected in the plays as a kind of dysfunctional father.
In this proto-canonical narrative of failure, grounded in the distinctive feelings of different comic modes, Aristophanic comedy becomes cast as a prestigious object, a soft, protective cloak meant to shield viewers from the debilitating effects of competitors' comedies and restore a sense of paternal responsibility and authority.
Associations between afflicted fathers and healing sons, between audience and poet, are shown to be at the center of the discourse that has shaped Aristophanes's canonical dominance ever since.
Information
Format:Hardback
Pages:256 pages
Publisher:The University of Chicago Press
Publication Date:27/05/2016
Category:
ISBN:9780226309699