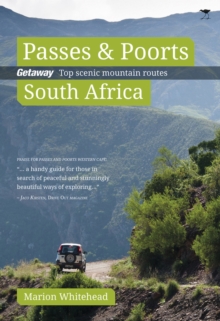 Passes & poorts South Africa : Getaway's top 20 scenic mountain routes
Paperback / softback
Description
Many of the modern passes in South Africa still follow ancient animal migration routes; others are engineering masterpieces that challenge gravity.
All take travelers deep into rugged and wild terrain where nature reigns supreme.
Passes & Poorts South Africa provides a detailed guide to the most scenic areas and is packed with information to enrich both the driving and the armchair traveling experience, from fauna and flora to the personalities behind the passes.
Activities highlighted in each area include favorite hiking trails, mountain biking tracks, and 4x4 routes.
Each chapter ends with tips on where to eat and stay, from bush camps and self-catering cottages to luxury lodges and hospitable guesthouses.
Many of the more than 40 passes can be done as drives or weekend trips en route to some of South Africa's most popular holiday destinations; driving others is an adventure in itself.
Full-color maps assist in travel planning, and the routes and points of interest are illustrated with photographs by the author.
Passes covered include Long Tom Pass, Sani Pass, and Magoebaskloof Pass.