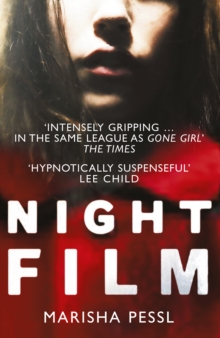 Description
"The book everyone's talking about." (Observer). On a damp October night the body of beautiful Ashley Cordova is discovered in a Manhattan warehouse.
Though her death is ruled a suicide, investigative journalist Scott McGrath suspects otherwise.
The last time McGrath got too close to the Cordova dynasty, he lost his marriage and his career.
This time he could lose his mind.
Information
Format: Paperback
Pages: 624 pages
Publisher: Cornerstone
Publication Date: 30/01/2014
ISBN: 9780099559245
Other Formats
EPUB from £4.99
CD-Audio from £23.09
Free Home Delivery
on all orders
Pick up orders
from local bookshops
Reviews
Showing 1 - 1 of 1 reviews.
Review by adpaton
16/06/2015
Some books are so intriguing and give the reader so much to think about that I feel I should wait until I have the time to really do it justice before setting pen to paper [as it were]: 90% of the time, those reviews are never written. I finished Night Film yesterday and want to write it up while it's still fresh, even if my critique is less than insightful.In a nutshell, investigative journalist Scott McGrath was at the top of his profession when he turned his sights on the reclusive cult film director Sergio Cordova: he was unable to get anywhere near Cordova but was then contacted by a man claiming to be Cordova's former chauffeur, who suspects the director was doing something to harm children. When Scott [inexplicably] announces his suspicions on television, the source vanishes, he is sued, vilified, his wife leaves him, and his career takes a nosedive. So much for the background.The novel starts with the suicide of Cordova's daughter Ashley, which Scott sees as his ticket back to the big time: he starts exploring the circumstances of the young woman's death and instead of clarity, the metaphorical waters just become murkier. He is joined in his search by a drug dealer [Hooper] and an aspirant actress [Nora] and the three of them experience a series of adventures and close calls in the course of 600 pages.Night Film makes interesting and effective use of multimedia, with facsimile pages from the internet showing news article, picture features and even the notorious 'Black Boards', a secretive and private site dedicated to Cordova sightings and anecdotes deep within the 'hidden internet'. Were Cordova's films merely horror films or were they something more sinister? What happened to the actors, many of whom were never heard of again? Was he involved in a cult and did he sell his daughter's soul to the devil? And where is he now - is he still directing and manipulating? Is he still working to protect his secrets, eliminating anyone who gets in his way?I loved the book, I loved the misdirection and red herrings, I loved the media pages, I love books about the film industry and the power of the image - [Flicker] is one of my favourites of all time - but I must admit the story would benefit by being about 100 pages shorter and tighter.People have complained about the liberal spattering of italics: my immediate impressions was Pessl was giving a nod to the dialogue bubbles in 'comic' books. She channels so much popular culture in Night Film, an homage to the random and senseless emphasis of arbitrary words in graphic novels WOULD be quite APPROPRIATE to a book of this KIND. As for the ending - well, it begged questions and left me wanting more. What better way to end a book?