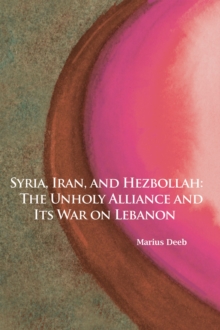 Syria, Iran, and Hezbollah : The Unholy Alliance and Its War on Lebanon
Paperback / softback
Description
Marius Deeb, an Oxford-educated authority on Middle Eastern politics and history, in a sequel to his authoritative Syria's Terrorist War on Lebanon and the Peace Process, shows how the Syria, Iran, and Hezbollah axis has tried, through assassination, terrorism and force, to undermine Lebanon's Cedar Revolution that triumphed in March 2005.
The Cedar Revolution began in September 2000 as a protest movement led by Patriarch Sfair, the head of the Maronite Catholic Church, and culminated on March 14, 2005, when 1.5 million demonstrated peacefully in Beirut calling for the withdrawal of Syrian troops from Lebanon and for a free, democratic, and pluralistic polity.
No wonder that the Syria, Iran and Hezbollah axis has regarded the Cedar Revolution as its implacable enemy, for the Cedar Revolution is the antithesis of the Islamic revolution in Iran that demonized America and opened the floodgates of terrorism.
In contrast, the Cedar Revolution is a nonviolent, democratic, and pro-Western revolution and thus an antidote to militant Islam and terrorism.
Information
Format: Paperback / softback
Pages: 84 pages
Publisher: Hoover Institution Press,U.S.
Publication Date: 30/08/2013
Category: Comparative politics
ISBN: 9780817916657