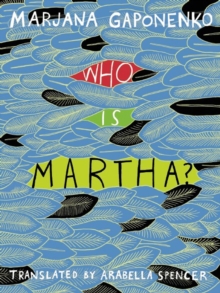 Who Is Martha?
Paperback / softback
Description
"Hilarious, beautiful and compassionate ...exquisitely rendered."--World Literature Today "A sweet, sad, sunny meditation on birds and music and the gentle approach of death." -- John Rockwell, former New York Times arts critic and editor and founding director of Lincoln Center Festival "A deeply compassionate meditation on one man's life and its impending finality.
Amusingly digressive and philosophically rich ...Gaponenko, at just thirty-four, remains a serious young talent and someone to keep an eye out for in the coming years."--Rain Taxi "A book like a fantastic party, as unshakeable as a child's faith...Astonishes to the very end."--Neue Zurcher Zeitung "With layers of inventive language, vividly drawn characters, history, music, birds, love, loneliness, and wisdom, this is a brilliant book, rich and satisfying as a Viennese torte."--Sy Montgomery, author of Birdology "A celebration of creation and all its wonders, full of the joy of life."--Der Spiegel "A work of unbridled imagination.
Marjana Gaponenko is exuberantly talented, and here she pulls out all the stops."--Die Welt "A panorama of twentieth century Central European history."--Citation for the 2013 Adelbert von Chamisso Prize In this rollicking novel, 96-year-old ornithologist Luka Levadski foregoes treatment for lung cancer and moves from Ukraine to Vienna to make a grand exit in a luxury suite at the Hotel Imperial.
He reflects on his past while indulging in Viennese cakes and savoring music in a gilded concert hall.
Levadski was born in 1914, the same year that Martha -- the last of the now-extinct passenger pigeons -- died.
Levadski himself has an acute sense of being the last of a species.
He may have devoted much of his existence to studying birds, but now he befriends a hotel butler and another elderly guest, who also doesn't have much time left, to share in the lively escapades of his final days.
This gloriously written tale, in which Levadski feels "his heart pounding at the portals of his brain," mixes piquant wit with lofty musings about life, friendship, aging and death. Marjana Gaponenko was born in 1981 in Odessa, Ukraine.
She fell in love with the German language as a young girl, and began writing in German when she was sixteen.
She now lives in Vienna and Mainz.
Information
Format: Paperback / softback
Pages: 230 pages
Publisher: New Vessel Press
Publication Date: 07/10/2014
ISBN: 9781939931139
Free Home Delivery
on all orders
Pick up orders
from local bookshops