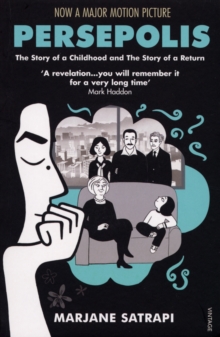 Persepolis I & II
Paperback
Description
CHOSEN BY EMMA WATSON FOR 'OUR SHARED SHELF' FEMINIST BOOK CLUBThe Story of a Childhood and The Story of a ReturnThe intelligent and outspoken child of radical Marxists, and the great-grandaughter of Iran's last emperor, Satrapi bears witness to a childhood uniquely entwined with the history of her country.
Persepolis paints an unforgettable portrait of daily life in Iran and of the bewildering contradictions between home life and public life.
This is a beautiful and intimate story full of tragedy and humour - raw, honest and incredibly illuminating.
Information
Format: Paperback
Pages: 352 pages, Black and white throughout
Publisher: Vintage Publishing
Publication Date: 06/03/2008
Category: Biography: general
ISBN: 9780099523994
Free Home Delivery
on all orders
Pick up orders
from local bookshops
Reviews
Showing 1 - 5 of 11 reviews.
Previous | Next
Review by tronella
16/06/2015
This is a graphic novel-style autobiography, of Marjane's childhood and teenage/early-twenties life in Iran, Vienna and France. I really enjoyed it - I like how it looks, and it taught me some history. Marjane isn't always likeable, but then, that makes it seem more honest. Her grandmother is the best character.
Review by Sauvik
16/06/2015
I had seen the award winning animation movie earlier and I found it humourous and witty. But let me tell you, it is nowhere close to the autobiographical graphic novels that inspired it, namely, "Persepolis : The Story of a Childhood" and "Persepolis 2 : The Story of a Return". 340+ pages of black and white ink illustrations with multiple panels in a comic book format lays down witty details of a lost soul (Marjane Satrapi or Marji) in the wake of an orthodox, conservative Islamic Republican government in a war infested Iran.As much as I found the book amusing, I found it very dark and depressing simultaneously. You will feel for the protagonist, daughter of Marxist parents, who escapes to Austria to stay out of reach from the oppressive government only to get her illusions broken - liberty comes for a hefty price. Through out the book, Satrapi tries to extract some humour in the bleakness of the surroundings. Broken into chapters of anecdotes, these extractions will make one laugh and realise how each piece of humour only adds to the darkness of the book and the seriousness of the story. In the book itself she explains - "We can only feel sorry for ourselves when our misfortunes are still supportable. Once this limit is crossed, the only way to bear the unbearable is to laugh at it."I personally found the second part (Return) more interesting. However, it is necessary to traverse through the first part (Childhood) to develop an understanding of the background and by no means it is less witty.
Review by Raven
16/06/2015
An introductory note: I am not good with graphic novels. I find it very difficult to read them intelligently - I end up either reading the dialogue and not really looking at the panels, or vice versa. Nevertheless, I have a sort of unstated project to at least read some of the genre classics. <i>Watchmen</i> and <i>Maus</i> are next, but I started here.<i>Persepolis</i> is, I suppose, not a graphic novel at all - it's a memoir, of sorts, chronicling a decade in the author's life, from 1980 to the early nineties. Her history, as she notes, is bound up with the history of her country, as she grows up in Iran and eventually, as the war, bloodshed and Guardians of the Revolution become too much, leaves for school in Vienna. That's the great strength of the book, the way she can easily justapose the details of everyday life with enormous facts of war and death - I particularly like an interlude where Satrapi's parents, on holiday in Turkey, smuggle "sacreligious" Iron Maiden posters back into Iran for her by lining her father's coat with them. ("They look like shoulder pads! It's stylish!") And, indeed, very funny, and the whole creation is stylish and funny. But the subject matter isn't shirked away from - not only the horrors of the revolution and the war, but the very real effects it has on Satrapi, whose later breakdown is chronicled sparsely and devastatingly. The result is that it's hard to step away from this work - it's hard to make an objective judgement. It is very, very good. But give it time to settle.
Review by fist
16/06/2015
There's a fascinating historical background to the story, but sadly the point of view remains egocentric throughout, even when passing from childhood and puberty into adulthood. The narrator's navelgazing without empathy ended up irritating me, especially since it is very clear that her family enjoyed many material privileges. On the plus side: some of the graphic representations of the situation in Iran during the Islamic revolution, especially in the first half, are breath-taking.
Review by helen295
16/06/2015
This is the first graphic novel I've ever read and I'm glad I chose this one to begin with, because I loved it!This edition of Persepolis is actually two books in one: The Story of a Childhood and The Story of a Return. They can be bought separately but you really need to read the first book before the second.These two books are the memoirs of Marjane Satrapi. In The Story of a Childhood she tells us what it's like to be a child growing up in Iran during the 1970s and 80s. Due to the Islamic Revolution and the Iran-Iraq War, Iran becomes an oppressive and often dangerous place to live, particularly as Marjane develops into a rebellious teenager. Her concerned parents eventually decide that the safest option is to send their daughter away to start a new life in Europe.Before beginning this book, I didn't know very much at all about Iranian history and politics. I found that seeing things through a child's eyes was fascinating and informative. Marji is an intelligent, imaginative girl and like all children she's always curious and full of questions, so for someone who knows very little about Iran, this book offers an opportunity to learn along with Marji.In the second volume, Marji is a teenager living in Austria, struggling to adapt to life in a country with an entirely different culture. This second book is more about the personal problems she faces with relationships, drugs and money and although I had a lot of sympathy for the situation she was in, I didn't enjoy reading this book as much as the first one.Although this was definitely a new experience for me, I was quickly able to forget that I was reading a 'graphic novel' and become absorbed in Marjane Satrapi's story. The simple, stark black and white drawings were perfect and made it easy to understand what was happening. Rather than just illustrating the text, the pictures played an equally important part in telling the story. I enjoyed this book much more than I expected to. It was a powerful and moving story, with some moments of humour too. So, if you are also new to graphic novels and unsure where to start, I have no hesitation in recommending this one to you!