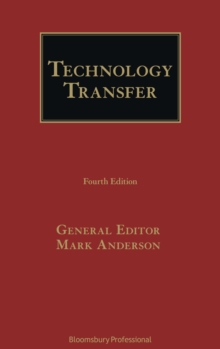 Technology Transfer
Hardback
Description
Covers the laws surrounding commercial transactions that involve the development, use of commercialisation of technology and associate intellectual property rights.
Types of transactions that fall within this category are research and development contracts and intellectual property licences and these form the main focus of the book.
Written by experts and describing the many different areas of law that affect technology agreements such as IP, contract law, competition law and tax, this is the leading guide to this complex area of law.
The new Fourth Edition has been brought completely up to date including:- Coverage of EU Horizon 2020 replacing Framework 7 funding scheme- General Data Protection Regulation (GDPR)- Updates in line with the Charities Act 2011- New section on different types of standard agreements available (Lambert, NIHR, EU consortium agreements)- New material dealing with variety of relevant patent legislation: Unitary Patent and Unified Patents Court, the Intellectual Property Act 2014, Legislative Reform (Patents) Order 2014, Patents (Supplementary Protection Certificates) Regulations) 2014- New material on the EU Trade Secrets Directive- Coverage of Regulations No 536/2014 of the European Parliament and of the Council of 16 April 2014 on clinical trials on medicinal products for human use, and repealing Directive 2001/20/EC- Addition of research exception (new section 22A) from freedom of information from 1 October 2014 (Freedom of Information Act 2014)- Coverage of Technology Transfer Regulation, 316/2014 and related guidelines
Information
Format: Hardback
Pages: 1128 pages
Publisher: Bloomsbury Publishing PLC
Publication Date: 14/02/2020
Category: Commercial law
ISBN: 9781526509062