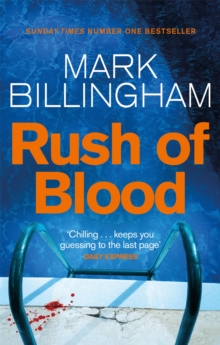 Description
Perfect strangers.A perfect holiday.The perfect murder...Three couples meet around the pool on their Florida holiday and become fast friends.
But on their last night, their perfect holiday takes a tragic twist: the teenage daughter of another holidaymaker goes missing, and her body is later found floating in the mangroves.When the shocked couples return home, they remain in contact, and over the course of three increasingly fraught dinner parties they come to know one another better.
But they don't always like what they find: buried beneath these apparently normal exteriors are some dark secrets, hidden kinks, ugly vices...Then, a second girl goes missing.Could it be that one of these six has a secret far darker than anybody can imagine?A brilliantly plotted, utterly gripping thriller about the danger of making friends on holiday, Rush of Blood is Mark Billingham's most ambitious and accomplished work to date.
Information
Format: Paperback
Pages: 480 pages
Publisher: Little, Brown Book Group
Publication Date: 25/04/2013
Category: Crime & mystery
ISBN: 9780751544039
Free Home Delivery
on all orders
Pick up orders
from local bookshops
Reviews
Showing 1 - 2 of 2 reviews.
Review by herschelian
16/06/2015
This might prove to be a rather chilling holiday read. It is the first book by Mark Billingham I have read and he is certainly a very competant author of mystery/crime fiction. The premise behind the book is that 3 British couples who don't know one another are all staying at a small holiday resort in Florida. On their last day a 13 yr old girl who has some intellectual difficulties goes missing. Back in the UK after the holiday the 3 couples meet for dinner three times and the case is always discussed. It becomes more serious when a similar girl goes missing in the UK. Billingham builds up the tension with chapters written from each couple's POV, plus anonymous mini sections written by the killer. The reader knows it is one of the six individuals, but which one? Many twists and turns. My biggest problem with this book was that I found all six individuals absolutely ghastly, really unpleasant people in every way, so by the end I could hardly care less who was the killer.
Review by adpaton
16/06/2015
Rush of Blood is a welcome change from Billingham's detective inspector Tom Thorpe and also somewhat of a change of pace for this master of the police procedural. What the book lacks in polish it more than makes up for in intrigue and red herrings.Three middle class British couples become friendly on holiday in Florida: apart from their nationality they have little in common and there is no reason for their friendship to outlast their return to the UK. But then a child disappears. A mentally disabled adolescent staying at their resort goes missing on the last day of the holiday, rather spoiling their trip.The story is written from the points of view of each of the couples but although it becomes apparent one of them must be the killer, the narrative is carefully structured to reveal nothing while exposing opportunities for everyone. The American child is found dead some months later, and an English child of the same age vanishes, suggsting a serial killer.The path to revelation is a slow one but the book is more about the characters, the human interactions and various psyches as the couples are kept connected [somewhat unwillingly] through the murder and the ongoing investigation. On the whole, they are dreadful people, entirely lacking in charm, and the reader is ready to believe the worst of any of them. In a way, the killings are almost incidental: remove them and the story would still be compelling despite the sour taste it leaves in the reader's mouth. The book is not as sure as most of his previous work and the unhappness and casual cruelty of most people is a little hard to stomach. Thorpe has become a little tired however and it's grand to see Billingham stretch his writer's muscles in something new.