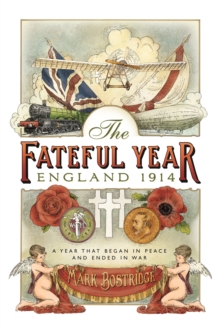 The Fateful Year : England 1914
Hardback
Description
The Fateful Year is the story of England in 1914. War with Germany, so often imagined and predicted, finally broke out when people were least prepared for it.
Here, among a crowded cast of unforgettable characters, are suffragettes, armed with axes, and celebrity aviators thrilling spectators by looping the loop.
With the coming of war, England is beset by spy hysteria and fears of invasion.
Patriotic women hand out white feathers to men who have failed to rush to their country's defence. And as 1914 fades out, England prepares itself for the prospect of a war of long duration.
Information
Format: Hardback
Pages: 432 pages, 16pp 1/2 tones and line drawings in text
Publisher: Penguin Books Ltd
Publication Date: 02/01/2014
Category: British & Irish history
ISBN: 9780670919215
Other Formats
Paperback from £8.59
EPUB from £5.49
Free Home Delivery
on all orders
Pick up orders
from local bookshops
Reviews
Showing 1 - 1 of 1 reviews.
Review by summonedbyfells
16/06/2015
At the beginning of the year I was aware that 2014 would see; (indeed it had already started in 2013), the publication of battalions of titles rooted in the anniversary of the Great War of 1914-1918. In a troubled-enough world, voluntary immersion in a greater grief lacks compunction, at least it did so for me and I rather fancied I'd let the thing pass by. But then I read a review of Margaret MacMillan's exceptional WWI analysis:- The War That Ended Peace, which now after its reading I rate as the best history book I own. But there was more to the Great War than the three-ringed fatefulness of the Triple Alliance and the Entente Cordiale (MacMillan is wonderfully helpful on these treaty obligations, committed or inferred) and this drew me to Mark Bostock's:- The Fateful Year England 1914, a social history portraying the concerns of multi-layered chronic class-ridden England in the months leading to the declaration of war on August 4th. The sub-title is "A Year That Started In Peace And Ended In War sets its scope and by the end of December 1914 more than 80,000 British soldiers had perished, something totally unimaginable only a few month earlier. Mark Bostridge unveils how a whole society moved towards these horrors. In contrast with the mass loss of life in the trenchesthe book opens with England obsessing over the loss of a single life, the murder of a small boy found dead in a railway carriage. A terrible tragedy, but somehow an unsatisfying introduction but I soon get into the stride of it. The author has collected material from diaries, newspapers and a wide range of official sources. His treatment of the Suffragette Movement, was detailed and gripping I was intrigued by the vivid account of the German navy's shelling of Scarborough, Whitby and Hartlepool and fascinated by his depiction of Prime Minister Asquith's "relationship" with Venita Stanley. Asquith's confiding to her in his often more than daily correspondence, seems in today's security-stifled landscape more than a little worrying. On the Irish Question, I was left wanting more, but the main player here is England. There is a good chapter on Edward Thomas whose own travels and writing at this time was likewise concerned with recording a nation in transition as an impending war ushered-in a parallel awful universe. Thomas rightly anticipated and feared these changes though his is a highly personalised, perhaps even self-centered observation. And while Mark Bostridge exploration ranges over more of the quotidian aspects of the lives of men and women of that time he shares much of Thomas's concerns. The Fateful Year England 1914 is a very good read, it demonstrates that it is within the contexulisation of the ordinary that the fogs of complexity are dispersed. Mark Bostock's clears the clouds of time and has helped, this reader to a much better understanding of the social conditions as 100 years ago England was going to war. Tomorrow I will be listening to his lecture on his book in Keswick, looking forward to that.