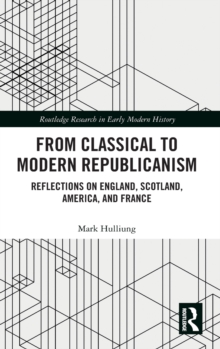 From Classical to Modern Republicanism : Reflections on England, Scotland, America, and France
Hardback
Description
In 1955 Louis Hartz published a volume titled The Liberal Tradition in America, in which he argued that liberalism was the one and only American tradition.
Since then scholars of New Left and neoconservative persuasion have offered an alternative account based on the notion that the civic notions of antiquity continued to dominate political thought in modern times.
Against this revisionist view the argument of From Classical to Modern Liberalism is that we need to study America in comparative perspective, and if we do so we shall discover that republicanism in the modern world was distinctively modern, drawing upon ideas of natural rights, consent, and social contract.
Rather than a struggle between liberalism and republicanism, we should speak about liberal republicanism.
Rather than republicanism versus liberalism, we should address liberalism versus illiberalism, the true issue of our age.
Information
Format: Hardback
Pages: 202 pages
Publisher: Taylor & Francis Ltd
Publication Date: 09/07/2020
Category: Humamities
ISBN: 9780367509859