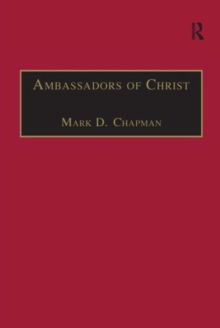 Ambassadors of Christ : Commemorating 150 Years of Theological Education in Cuddesdon 1854-2004
Hardback
Description
Ambassadors of Christ commemorates 150 years of theological education in Cuddesdon with a collection of substantial essays.
It begins with a discussion by Mark Chapman of the revival of theology and education in the early years of the nineteenth century.
This is followed by essays by Alastair Redfern on Samuel Wilberforce as a pastoral theologian and a revision by Andrew Atherstone of Owen Chadwick's Centenary History in the light of more recent historical research, bringing the discussion up to the 1880s.
For the first time, Ripon Hall, which merged with Cuddesdon in 1975, receives a thorough and detailed historical treatment by Michael Brierley.
Mark Chapman then discusses the 1960s under Robert Runcie, and a final chapter by Robert Jeffery deals with the theological and churchmanship issues which emerged from the merger.
Two marvellous sermons preached at College Festivals by Michael Ramsey and Owen Chadwick are also reproduced in appendices. This special commemorative volume will appeal to past and present students as well as specialists in nineteenth and twentieth-century church history and all those interested in ministerial education and spiritual formation.
A
Information
Format: Hardback
Pages: 248 pages
Publisher: Taylor & Francis Ltd
Publication Date: 19/05/2004
ISBN: 9780754637547