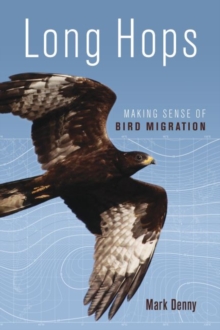 Long Hops : Making Sense of Bird Migration
Paperback / softback
Description
Long Hops explains the science of bird migration in accessible language-from the aeronautics of bird flight to the newly unraveled mysteries of their magnetic compasses.
The author provides a sideways look, from the perspective of an experienced physicist, at the amazing long-distance migration journeys of many bird species.
Birds are breathtaking works of engineering as well as beautiful creatures possessed of spectacular capabilities.
Consider what it takes for a bird to navigate from Alaska to Hawai`i, as thousands of birds do every fall.They fly 2,500 miles nonstop and land on a small island in the middle of a vast ocean.
How do they endure such marathon journeys, and how on earth do they know which direction to travel over featureless ocean?
These migrants head straight for their island of choice from the get-go (they don't just fly south and hope to bump into an island chain).
Now consider this: many of the migration journeys described in this book, in all parts of the world and performed by birds as small as warblers and as large as swans, cover much longer distances. The mysteries of migration are being revealed to us via recent research aided by technology-this book makes an important contribution to explaining these developments, with original observations and transparent explanations of one of nature's most fascinating phenomena.
Information
Format: Paperback / softback
Pages: 296 pages, 15 colour, 61 black & white illustrations
Publisher: University of Hawai'i Press
Publication Date: 30/08/2016
Category: Ecological science, the Biosphere
ISBN: 9780824866303
Free Home Delivery
on all orders
Pick up orders
from local bookshops
Also in the Latitude 20 Book series | View all