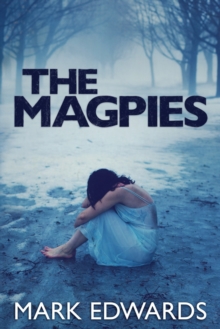 Description
Meet the neighbors from hell, in the gripping thriller that reviewers and readers describe as "fast-paced," "chilling," and "impossible to put down." When Jamie and Kirsty move into their first home together, they are full of optimism.
The future, in which they plan to get married and start a family, is bright.
The other residents of their building seem friendly too, including the Newtons, a married couple who welcome them to the building with open arms. But then strange things start to happen. Dead rats are left on their doorstep. They hear disturbing noises, and much worse, in the night.
After Jamie's best friend is injured in a horrific accident, Jamie and Kirsty find themselves targeted by a campaign of terror. As they are driven to the edge of despair, Jamie vows to fight back-but he has no idea what he is really up against...The Magpies is a gripping psychological thriller in which the monsters are not vampires or demons but the people who live next door.
It is a nightmare that could happen to anyone. Praise for The Magpies "Mark Edwards achieves what other writers yearn for, by creating characters that genuinely feel like real people, individuals you know personally-and then puts them into the scariest of situations so that we cannot help but suffer with them.
Edwards takes the places that should feel safe and subverts them, shifting the ground beneath our feet, until we're left clinging to the book, hoping against hope for a positive conclusion.
There's something deeply unsettling about The Magpies-and that's exactly as it should be." -Elizabeth Haynes, author of Into the Darkest Corner "The Magpies is absorbing, claustrophobic and terrifying.
Read this book! Then get a top notch alarm system fitted in your house." -Helen Fitzgerald, author of The Cry
Information
Format: Paperback
Pages: 328 pages
Publisher: Amazon Publishing
Publication Date: 26/11/2013
Category: Thriller / suspense
ISBN: 9781477817995
Free Home Delivery
on all orders
Pick up orders
from local bookshops
Reviews
Showing 1 - 1 of 1 reviews.
Review by dreamydress48
27/08/2015
Books like The Magpies are risky investments for me. They can be either incredulous and/or poorly written. This book was neither of those things. In fact, I have subsisted on a heavy diet of mystery books for so long that it is nearly impossible to shock me...and yet this book managed to do so, and with the last few chapters in the balance, at that. Jamie and Kirsty are a young couple very much in love, with a promising future ahead of them. They manage to find the most perfect flat in the middle of London at a price they can afford. Their neighbors all seem nice and the neighborhood couldn't be more perfect. That is until strange things start happening to the couple. Before they realize it, their peaceful abode is anything put the haven of peace it should be. Someone is harassing and stalking them. But who?! Surely not their new neighbors? That'd be crazy, right?! I couldn't help but think of films like The Tenant or Rosemary's Baby. This book is definitely a psychological thriller, and even though the characters make dumb decisions and are slow to piece things together, I liked how it all came together in the end. I can't decide if it's a 3 or 4 star read; maybe it's somewhere in the middle? Either way it was very entertaining!