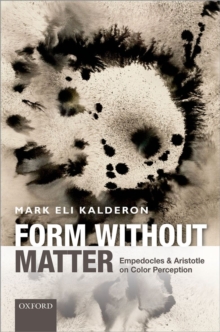 Form without Matter : Empedocles and Aristotle on Color Perception
Hardback
Description
Mark Eli Kalderon presents an original study in the philosophy of perception written in the medium of historiography.
He considers the phenomenology and metaphysics of sensory presentation through the examination of an ancient aporia.
Specifically, he argues that a puzzle about perception at a distance is behind Empedocles' theory of vision.
Empedocles conceives of perception as a mode of material assimilation, but this raises a puzzle about color vision,since color vision seems to present colors that inhere in distant objects.
But if the colors inhere in distant objects how can they be taken in by the organ of sight and so be palpable to sense?
Aristotle purports to resolve this puzzle in his definition of perception as the assimilation of sensible formwithout the matter of the perceived particular.
Aristotle explicitly criticizes Empedocles, though he is keen to retain the idea that perception is a mode of assimilation, if not a material mode.
Aristotle's notorious definition has long puzzled commentators.
Kalderon shows how, read in light of Empedoclean puzzlement about the sensory presentation of remote objects, Aristotle's definition of perception can be better understood.
Moreover, when so read, the resulting conception of perception isboth attractive and defensible.
Free Home Delivery
on all orders
Pick up orders
from local bookshops