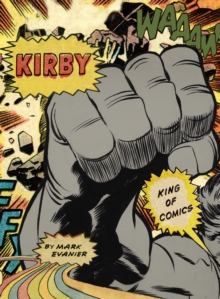 Kirby : King of Comics
Hardback
Description
Jack Kirby created or co-created some of comic books' most popular characters including Captain America, The X-Men, The Hulk, The Fantastic Four, The Mighty Thor, Darkseid and The New Gods.
More significantly, he created much of the visual language for fantasy and adventure comics.
There were comics before Kirby, but for the most part their page layout, graphics and visual dynamic aped what was being done in syndicated newspaper strips.
Almost everything that was different about comic books began in the forties on the drawing table of Jack Kirby.
This is his story by one who knew him well - the authorized celebration of the one and only 'King of Comics' and his groundbreaking work.
Information
Format: Hardback
Pages: 224 pages, cl200 / bw / tt200 illustrations, cl / bw / tt photographs
Publisher: Abrams
Publication Date: 01/03/2008
Category: Individual artists, art monographs
ISBN: 9780810994478
Free Home Delivery
on all orders
Pick up orders
from local bookshops
Reviews
Showing 1 - 4 of 4 reviews.
Review by craso
16/06/2015
I used to think of Jack Kirby as the comic book illustrator that started the coming-off-the-page-at-you type of drawing. His covers usually depicted a hero running at you or throwing a punch at you. I never realized what a skilled artist he was. I enjoyed the uninked drawings in this book better that the inked and colored ones. He put a lot of detail into his drawings. It seems like the ink and color just diluted the intensity. I admire him for his work ethic. Kirby was brought up to go to work and bring home a paycheck. He worried about making enough money to take care of his family, so he worked on two or three different titles at a time and at record speed. He was always out there looking for the next paying job.Like a lot of creative people, Kirby never made the money he should've. The writers were credited with the creation of the character and he was left out in the cold. It was nice to read that his fans came together, understanding how he had revolutionized the way comics are drawn, and helped him reap some of the rewards and accolades at the end of his life.
Review by Chris177
16/06/2015
Great book. Kirby was a great gift to the world!
Review by kcslade
16/06/2015
Good biography on great comic book artist and innovator.
Review by burnit99
16/06/2015
A biography of and homage to the art of Jack Kirby, the creator or co-creator of several iconic Marvel and DC characters, such as Captain America, the X-Men, the Hulk, the Fantastic Four, Thor and others. He eventually became known as the "King of Comics", and in some ways it's a fitting title. He revolutionized comic book art and layout. But Kirby always saw himself as a craftsman of some talent, trying to earn a living. His desire to be treated fairly and equitably led to legal wrangling with Marvel and other comics companies. He died in 1994, his reputation secure as one of the most influential innovators in the comics medium. This book is a well-written and nicely illustrated compendium of his life and work.