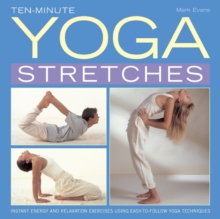 Ten-minute Yoga Stretches : Instant Energy and Relaxation Exercises Using Easy-to-follow Yoga Techniques
Hardback
Description
This title offers instant energy and relaxation exercises using easy-to-follow yoga techniques.
It offers a clearly explained guide, illustrated with specially commissioned step-by-step photographs.
Counteract the stresses and strains of today's hectic lifestyle with quick yoga sequences that leave you feeling calm and refreshed, supple and renewed.
Exercises include tired and aching leg revivers; abdominal tension relievers; instant fatigue revitalizers; tension and backache relievers; flexibility enhancers; waking-up stretches; and exercises to relieve anxiety, aid breathing, increase blood flow and improve posture.
Tried and tested ways to ease tension and restore energy whenever you need to, using simple exercises that are easy to perform in your everyday life.
Over 200 photographs clearly show each yoga sequence in detail.
Drawing on the ancient art of yoga, this clear and simple book guides you through a series of exercises to help you achieve a fit, supple body and relieve your body of strain and tension. The main part of the book consists of invigorating exercises that will stretch, tone, revive, enhance or relax different parts of the body, to leave you feeling calm, refreshed and better able to cope with stress.
After a warm-up routine, special stretches are shown for a multitude of purposes and to treat a variety of aches, pains and ailments.
The exercises are simple to do, and take around 10 minutes.
Clear instructions, combined with step-by-step photographs, will guide you confidently through the quick-and-easy sequences.
Whether you wish to counteract the pressures of a hectic daily routine, improve your posture and muscle tone or become more supple, this practical handbook will set you on your way.
Information
Format: Hardback
Pages: 64 pages, over 200 photographs
Publisher: Anness Publishing
Publication Date: 14/11/2013
Category: Exercise & workout books
ISBN: 9780754827252