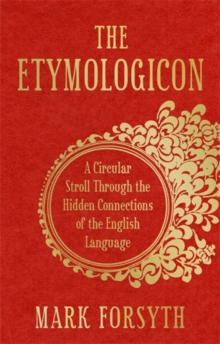 The Etymologicon : A Circular Stroll through the Hidden Connections of the English Language
Hardback
Description
The Sunday Times Number One Bestseller'Not since Eats, Shoots & Leaves has a book about language attracted so much attention' Robert McCrum, ObserverWhat is the actual connection between disgruntled and gruntled?
What links church organs to organised crime, California to the Caliphate, or brackets to codpieces?
The Etymologicon springs from Mark Forsyth's Inky Fool blog on the strange connections between words.
It's an occasionally ribald, frequently witty and unerringly erudite guided tour of the secret labyrinth that lurks beneath the English language, taking in monks and monkeys, film buffs and buffaloes, and explaining precisely what the Rolling Stones have to do with gardening.
Free Home Delivery
on all orders
Pick up orders
from local bookshops
Reviews
Showing 1 - 5 of 12 reviews.
Previous | Next
Review by Eyejaybee
16/06/2015
Rather a fatuous book and I regret having wasted valuable time reading it.The idea of a humorous yet also scholarly reflection on etymological themes was a clever one, but sadly Forsyth lacked the skill to take the task on. I never thought I might write the following words but I think that even Bruce Forsyth might have been more amusing.Certainly the worst book I have had the misfortune to read this year and probably in my bottom twenty of the century so far.
Review by Krynskl
16/06/2015
spellbinding. i can read etymologies forever and this one is although seemingly witty and light is really interesting. it has the feel in place of an etymological version of james burkes connections tv series.i hope for more of the same from this guy.
Review by angel93
16/06/2015
I thoroughly enjoyed this book. Not for the reader who is looking for an intense, in depth book about etymology but that is not what it proposes to be. It is lighthearted and very readable, it does not however make the reader feel patronized and as if they need to have their hand held on this circular journey. I found it witty, fast paced and incredibly interesting. I borrowed it from a friend and enjoyed it enough to purchase my own copy as it will be great to dip in and out of, and if you're forgetful like me, to remind one of why a word has such an interesting history.
Review by Mike-Fitzgibbons
16/06/2015
You can open this book at any page and read. The maze of links from one word to another makes for complete enjoyment. Like a butterfly it flits from theme to theme. Well researched and cleverly crafted to give a seamless flow. The more I read, the more I have come to realise that etymology is in reality just a sub plot.
Review by adpaton
16/06/2015
Blogs are sooo previous decade and Finnegan's Wake forever soured me toward stream of consciousness writing - however The Etymologicon, by English man of letters and brilliant blogger Mark Forsyth, aka The Inky Fool, encompasses both yet is, quite simply, brilliant. He focuses on the connection between words in a meandering but entirely logical stream which is as entertaining as it is intriguing: like all great raconteurs – although this account is literary rather than verbal – the Inky Fool is erudite and witty, and sweeps his audience along with him. For example, Turkeys are so named because they resemble the helmeted Guinea Fowl which were imported by Turkish traders and so became known as 'Turkeys': since the American Turkey looked like and tasted like the Guinea Fowl, they were assumed to be the same bird, hence the name. When people Talk Turkey however, it has nothing to do with the bird or with Turkish, but is connected with some amazingly unfunny 19th Century American joke regarding a Red Indian, a Turkey and a buzzard. 'Talking cold turkey' was even blunter and more direct, thus giving up an addiction became know as going 'cold turkey' – so cold turkey is not food, but giving someone the 'cold shoulder' originally was. Fascinating stuff and impossible to stop once started because – as the title suggests – the interconnectivity of our language is circular and the only end is when, all too soon, the last page is reached.