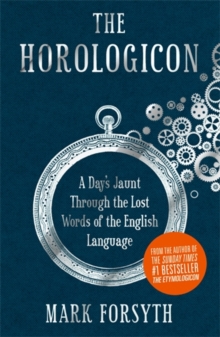 The Horologicon : A Day's Jaunt Through the Lost Words of the English Language
Hardback
Description
The Horologicon (or book of hours) gives you the most extraordinary words in the English language, arranged according to the hour of the day when you really need them. Do you wake up feeling rough? Then you're philogrobolized. Pretending to work? That's fudgelling, which may lead to rizzling if you feel sleepy after lunch, though by dinner time you will have become a sparkling deipnosophist.
From Mark Forsyth, author of the bestselling The Etymologicon, this is a book of weird words for familiar situations.
From ante-jentacular to snudge by way of quafftide and wamblecropt, at last you can say, with utter accuracy, exactly what you mean.
Free Home Delivery
on all orders
Pick up orders
from local bookshops
Reviews
Showing 1 - 5 of 5 reviews.
Review by adpaton
16/06/2015
With his casual elegance and melodious voice, Mark Forsyth has an anachronistic charm totally at odds with the 21st Century: one can imagine him pitching bread rolls across the bar of the Drones' Club or exchanging effortless witticisms with Oscar Wilde over champagne at the Ritz. However, one can't imagine him as a harried wage slave, a hack besieged by deadlines, ringing phones and other modern inconveniences: when he visited South Africa recently for the world wide launch of his second book, The Horologicon, I asked him to walk me though a typical day in his life."My mornings usually start with uhtceare [lying awake before dawn and worrying]: I might get back to sleep again before being woken by an expergefactor [anything that wakes you up, leg an alarm clock] which in Jo'Burg was the Hadedas. I lie for a while in a zwodder [drowsy, stupid state of mind] before heading to the bathroom to shower, brush my teeth and go to siege' [use the lavatory]Mark is not much of an aristologist [one devoted to the pursuit of the perfect breakfast] so, fortified by a cup of the brown stuff [coffee] he begins the day by making an entry in The Inky Fool – a blog devoted to words, the more weird and wonderful the better – before setting off to work. "I hurple [scurry along the streets with head down and shoulders hunched against the cold] to the reading room of the British Library where I enjoy shocking the librarians by asking for books like A Descriptive Dictionary and Atlas of Sexology. It does actually contain maps."After a few hours work its time for a voyage to the land of the Nicotinians [a smoke break] and to pop across the road to a pub for an elevener – which is much the same as elevenses but with an alcoholic element. For lunch he just grabs a quick sandwich from a slap and bang shop [where food must be paid for in cash] and maybe a cup of cha, but then it's back to work. "I try to write a set number of words a day but usually the time ticks away and I haven't got anything done. If I want to keep to my writing schedule I have to practice shturmovshchina" [a Soviet Russian word meaning a sudden burst of activity, working frantically just before deadline.]When the library closes, Mark likes to pass the twilit hour enjoying a little flanerie: this is a near-untranslatable French concept meaning to saunter around doing nothing, or relax alone over a cigarette and a drink at a pavement café, observing the world hurrying by. But even the most languid young gentlemen need to shop so after a pleasant flaner, it's time to dash into the supermarket where, like the rest of us, he is overcome by the dreaded Gruen Transfer. This is the strange mental effect that takes hold of even the hardiest customers when they enter shopping malls and are faced with the romantic and exotic array of foreign artifacts like gondolas, islands, exploding offers and shelf misers, to say nothing of light thieves. But then it's time for supper – or dinner if it's the main meal of the day – and the all important question of alcoholic sustenance."I sidle supperward – man is a uniformly coenaculous [supper-loving] creature – and once the dinner bell has sounded and we are marshaled to our places at the table, the first thing I ask is 'who skinks?' [Who the hell is meant to be pouring the drinks?].'After eating I pick a few ale-knights [drinking companions], choose a drunkery [a bar] and begin to fuddle [drink]. Actually, as a result of over-enthusiastic fuddling I sometimes end the evening in a state of humicubation [flat on his face] accompanied by spartling [waving his limbs around vainly]."When he reaches home and totters bed wards, Mark has no need to be surrepent [creep stealthily] because he does not possess a domestic dragon [spouse] who might take umbrage at his sozzled state and deliver a Curtain Lecture [a scolding while in bed].And so ends another day in the unusual life a Mark Forsyth, Inky Fool, Etymologist and author. In closing, here are a few more interesting facts about him: He was educated at St Mary's College of Winchester and at Oxford University, where he studied the English LanguageHe blames his fascination with words on the fact that he was given a copy of the Oxford English Dictionary as a Christening presentHis literary icon is Jerome K. Jerome and he is anxious of obtain a copy of the humourist's play The Passing of the Third Floor BackHe is a nod-crafty [nods with air of great wisdom] ultracrepidarianist [gives opinions on subjects he knows nothing about]He has Sprezzatura [the appearance of perfect nonchalance, disguising the fact that he is making an effort] down to a fine artHe is a tobacconalian – but assures me he smokes only a few a day and is trying to give upHe is famelicose [always hungry]He read Rawbone Malong's 'Ah Big Yaws? A Guard to Sow Theffrican Innglissh' before coming to South Africa, the better to understand our accents. The dirtiest word in The Horologicon appears in the perambulation: it is Feague, and if you want to know what it means, buy the book.
Review by the.ken.petersen
16/06/2015
I WANT SIX STARS!!!Humorous writing is probably the most difficult style to do well. So often, what amuses for a couple of pages begins to pall after a couple of chapters: NOT when the author is Mark Forsyth! If you are fortunate enough to have read 'the Etymologicon', you will know what I mean (and if you haven't, you are even more lucky because it is a treat still to come).Mr Forsyth does not believe in giving his books easily remembered titles but, judging by the sales of his aforementioned previous opus, that does not affect the buying public. 'The Etymologicon', was a stroll through the back waters of the English language picking out forgotten words in a random, scatological manner; this time, our intrepid author sets out through the average day, describing a person's activity in a host of words that one simply wonders how one could possibly have attained whatever might be one's present age without acquiring (I bet Mr Forsyth could put that clumsy sentence into a couple of words of which, you and I have never had the pleasure).There are few authors who have the ability to make me laugh out loud, this is one of that select bunch so, beware where you read him (This is not a book to take into church to alleviate the agony of vicar's interminable sermon!) Rather like watching an episode of QI, it is a book that is packed with explanations of these obscure etymological mysteries and as one reads, that little voice inside the head is on a continuous repeat cycle saying, "Ah, I must remember that!" and, if you are anything like me, each nugget will have seeped from the concious before the page is turned - meaning that one can go back to the beginning and experience the pleasure of this book all over again!Whether you decide to read cover to cover, or dip in to its pages in a spare five minutes, this book is a delight. I hope that there is a third, fourth, fifth (ad infinitum)... book in the pipeline: I would place my order now.
Review by passion4reading
16/06/2015
First of all, I have to admit that I went against the author's recommendation and read this book from cover to cover; alas, at least so far, I have not suffered from any ill-effects. A warning to any prospective readers though: while reading this, what Mark Forsyth calls a serious "reference work", I was rather prone to reading out random passages to my unsuspecting husband who had no choice but to listen. Please bear that in mind before you decide to buy the book.As the front cover tells us, this is "A Day's Jaunt Through the Lost Words of the English language", starting at 6 a.m. and ending at midnight. Each chapter, comprising of one hour, deals with one major activity particular to that time of day, such as Waking and Washing, Dressing and Breakfast, and Commute. In his preambulation, the author hopes that this book will be used as a reverse dictionary: rather than asking "What does xyz mean?", he encourages the reader to ask "What's the word?" for a particular activity, then check the time and find the answer in this handy reference book, such as: "I really don't feel like going in to work today, I have to call up my boss to feign sickness", for which the word is egrote. The fact that my laptop's inbuilt spellchecker has just flagged it up just shows you how forgotten and obscure these words have (unfortunately) become. So your boss will not have the faintest idea that what you're really doing is whindling because you're suffering from a hum durgeon. The author's whimsical style of writing rather masks his erudition and hard work that has obviously gone into this book, and it is easy to tell that it is a true labour of love, peppered as it is with such lovely alliterations such as herbaceous hedonism and linguistic lowlands. It made me chuckle and even laugh out loud on numerous occasions because I could transfer what I read so easily to myself or recognise it in my husband. It is obvious that Mark Forsyth possesses a rather impish sense of mischief which is most easily recognisable when he talks about the cleverly disguised insults that could be hurled at any person of disfavour and without them being any the wiser; these, along with some fascinating etymological snippets, are some of the best bits in my opinion. This is an absolute treasure trove of obscure and forgotten words that deserve to be brought back to light and into the current dictionaries. I say we start a campaign to resurrect a word from each chapter; wouldn't that be a literary achievement to find that bellibone has now had its first documented use since 1586? Who's with me?(This review was originally written as part of Amazon's Vine programme.)
Review by parrishlantern
16/06/2015
Are you looking for that wonderful gift to present to the individual in your life who appears to have swallowed a lexicon with their mornings repast, and have you been a bit tardy in getting said article? Well fret not here is an awesome nay, Brobdingnagian offering that could easily engender feelings of exuberance and even adoration from said recipient! In his preambulation Mark Forsyth states that this book is for those words that are.."To beautiful to live long, too amusing to be taken seriously, too precise to become common, too vulgar to survive in polite company, or too poetic to thrive in this age of prose."He goes on to say that these words languish away in old and arenaceous dictionaries, that these are the lost words and the great secrets of civilisations that can still be of use today. What sets this marvellous read apart from your standard lexicon is the method of recording used does not follow the A – Z format. In fact the writer states that by having words arranged alphabetically within a dictionary you render them useless as they bear no relation to their neighbouring words and are estranged from those words they share a relationship with (for example in the Oxford English Dictionary, wine and corkscrew are separated by seventeen volumes). This led the author after hours of rumination and a degree of puttering to fix upon the idea of using the medieval book of hours as his solution to this dilemma, in the process reinventing the reference book for the modern world and it's constant haste. With this method all one needs to do is to check the time of day via whatever clepsydra you prefer and then by referring to the correct page within this publication - suitable words should avail themselves for your use and the delectation of all within earshot.The Horologicon (or book of hours) is the partner to last years The Etymologicon, and like that wonderful book, uses Mark's Inky Fool blog, as it's reference point. Where as the previous work, threaded us through the strange connection that exist between words, The Horologicon, is literally a book of hours, charting the period from just before the moment day-raw streaks red across the sky and guiding us through the day and eventide up until Bulls-noon, where we, having wished bene darkmans to our loved ones, will hopefully be ensconced in our dreamery, asleep in those arms of Morpheus. This was a BBC radio 4 book of the week (read by Hugh Dennis) and was described as: "The Horologicon (or book of hours) gives you the most extraordinary words in the English language, arranged according to the hour of the day when you really need them. Do you wake up feeling rough? Then you're philogrobolized. Pretending to work? That's fudgelling, which may lead to rizzling if you feel sleepy after lunch, though by dinner time you will have become a sparkling deipnosophist. From Mark Forsyth, author of the bestselling The Etymologicon, this is a book of weird words for familiar situations. From ante-jentacular to snudge by way of quafftide and wamblecropt, at last you can say, with utter accuracy, exactly what you mean."Disclaimer."This is a reference work. You should on no account attempt to read it cover to cover. If you do, Hell itself will have no horrors for you, and neither the author nor his parent company will accept liability for any suicides, rampages, or crazed nudity that may result." Mark Forsyth.
Review by shanaqui
16/06/2015
Somewhat unfortunately, I read this at the same time as the new QI book of 1,227 facts, which included many of the words in this volume, obviously not by total coincidence. It's a fun book, though, with Mark Forsyth's humour as much as or more in evidence than in The Etymologicon. I don't think I'm going to remember many of these words, if any, but they are indeed satisfying and odd, and some of them are undeservedly defunct.