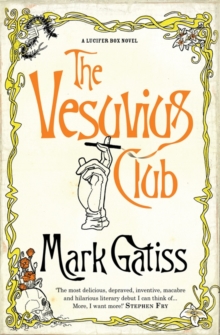 The Vesuvius Club : A Lucifer Box Novel
Paperback
Description
An Extraordinary and Death-Defying Tour of Edwardian Low Life and High Society, accompanied by our host Lucifer Box Esq - artist, dandy, rake ... and lethal secret agent. Lucifer Box is the darling of the Edwardian belle monde - society's most fashionable portrait painter is a wit, a dandy, a rake, the guest all hostesses (and not a few hosts) must have.
But few know that Lucifer Box is also His Majesty's most accomplished and daring secret agent.
Beneath London's facade of Imperial grandeur and divine aesthetes seethes an underworld of crazed anarchists, murder, and despicable vice, and Box is at home in both. And so of course when Britain's most prominent scientists begin turning up dead, there is only one man his country can turn to.
Lucifer Box ruthlessly deduces and seduces his way from his elegant townhouse at Number 9 Downing Street (all his father left him), to private stews of London and the seediest, most colourful back alleys of Italy, in search of the mighty secret society that may hold the fate of the world in its claw-like hands - the Vesuvius Club.
Information
Format: Paperback
Pages: 256 pages, Integrated B&W
Publisher: Simon & Schuster
Publication Date: 04/07/2005
Category: Espionage & spy thriller
ISBN: 9780743483797
Free Home Delivery
on all orders
Pick up orders
from local bookshops
Reviews
Showing 1 - 5 of 8 reviews.
Previous | Next
Review by JustAGirl
16/06/2015
Highly entertaining nonsense, chock full of intrigue, mystery and a plot to destroy the world.
Review by riverwillow
16/06/2015
As you would expect from a member of the League of Gentlemen and one of the writers for the new series of Dr Who, this is an opulent romp. Lucifer Box is an Edwardian painter and spy whose office is based in a gentleman's lavatory underneath the Royal Academy of Art. Lucifer is an interesting, self-obsessed character, the opening chapters are peppered with asides about his pretty mouth and fine white hands. He's also very very naughty, with 'a girl with a name and the body of a goddess ... There'd been a balcony, starlight, whispered words and then something very cheeky in the rhododendrons' as well as with anyone else who takes his fancy. He lives at 9 Downing Street (someone has to and its "awfully handy for town"). The prose is superb, darkly funny and surreal and this is an entertaining read.
Review by sarah_rubyred
16/06/2015
I read this in a back to back book joined with Mark Gatiss's second Lucifer Box novel 'Devil in Amber'.I enjoyed both books, very funny main character who is a bit of a dandy, sleeping with anyone he can find and having all sorts of jolly fun while he manages to save the world. Great holiday read.
Review by iftyzaidi
16/06/2015
A blurb on the back describes this as "Oscar Wilde meets H. P. Lovecraft" - which sets expectations rather high. At first, I was underwhelmed, finding the writing to be nowhere near as droll as Wilde and nowhere near as eerie as Lovecraft, but as the story moved along and the protagonist, Lucifer Box (a secret agent of His Majesty's Government in the Edwardian age), was pulled further and further into the mystery, the novel took on a life of its own. Its more of a Jules Verne meets James Bond adventure story, with a rather raunchy side to it, than horror or farce. Overall, a light, fun read that left me looking forward to the next in the series.
Review by isabelx
16/06/2015
'Well, bless my soul!' whispered Lucky.For within the coffin was revealed a cloth dummy, its innards stuffed with straw, its eyes and mouth merely crude stitching like that on some common scarecrow.'Ha!' I cried triumphantly. 'Exactly what I expected to find!'Which was a bloody lie but there you are.A humorous spy story set in Edwardian London and Naples. Lucifer Box is a well-known portrait painter and dandy. He is witty and decadent, with a fondness for the seedier fleshpots of Edwardian London, and by page five I was convinced that he was a sociopath. He also has a secret life as a spy and assassin for the British secret service, and his adventures in Naples (once he was over his sea-sickness) tracking down the people responsible for the disappearance of three vulcanologists, were exciting and very entertaining.