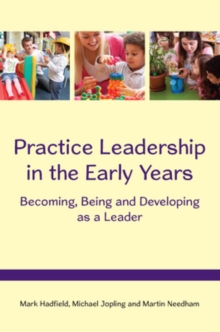 Practice Leadership in the Early Years: Becoming, Being and Developing as a Leader
Paperback / softback
Description
This book focuses on the leadership of practice and, in particular, how to bring about changes which improve practice.
It draws on research into a group of early years leaders which followed them for almost three years as they attempted to improve provision in their settings as 'change agents' and 'leaders of practice'.
Through exploring their successes and failures, the book builds a picture of what it takes to lead improvements in practice.
This book develops four principles of practice that many leaders adopt as they innovate.
These principles provide basic guidance about how to bring about improvements in practice and are derived from the real-life attempts of both inexperienced and established leaders to improve the quality of provision.With its strong research methodology and skilled analysis, this book provides an excellent insight into the challenges of leadership for quality provision in early years settings.
If you are working as a leader in the early years sector, or aspire to a leadership role in the early years, this book is inspiring and essential reading.Mark Hadfield is Professor in the School of Social Sciences, University of Cardiff, UK. Michael Jopling is Professor in Education at Northumbria University, UK.
Martin Needham is Principal Lecturer at Manchester Metropolitan University, UK.This book provides unique insights into Early Years 'practice leadership' and uses research to inform quality improvement.
The authors set the scene with a review of policy and its effects on practice leadership, before combining key aspects emerging from their own research and wider theory with practical guidance on how to assess and improve practice leadership and quality Early Years provision.
There is a strong focus on the relationships which support and develop inclusion and shared responsibility for creating a culture of change and improvement and include the perspectives of children and parents as equal partners.
This book will be of value to all involved in Early Years practice and leadership as well as students at all levels and researchers. Michael Gasper, Early Years ConsultantThe introduction of a graduate leader has been one of the most significant developments in early years in recent times. This book therefore provides essential reading for all 'leaders' in the early years especially those with Early Years Professional Status or currently undertaking Early Years Teacher Status (0-5).
Drawing upon the longitudinal national evaluation of Early Years Professional Status, it provides clear evidence to support those in leadership roles to reflect upon and develop their practice. Most importantly it recognises that there is not one type of leader and that innovation occurs when the graduate leader is able to apply their professional training and experience to a specific setting. Dr Eunice Lumsden, Head of Early Years, The University of Northampton
Free Home Delivery
on all orders
Pick up orders
from local bookshops