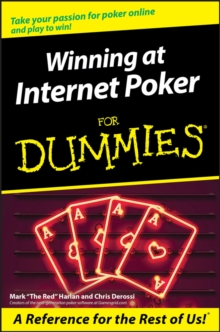 Winning at Internet Poker For Dummies
Paperback / softback
Description
Take poker online the fun and easy way! Five years ago, 50 million people were playing poker recreationally or professionally.
Now that number is more than 100 million, including a huge influx of young people.
Online betting is up nearly four-fold over the past year, with total wagers running over $30 billion.
Winning at Internet Poker For Dummies provides the lowdown on the hottest game around, highlighting the best sites and virtual games and showing how to make secure online bets.
The book covers setting up an account, securing funds, navigating a basic online poker game, using Internet abbreviations and lingo, observing online poker etiquette, playing popular online poker games such as Texas Hold 'Em and Omaha, devising a winning strategy, and participating in tournaments.
Information
Format: Paperback / softback
Pages: 268 pages
Publisher: John Wiley & Sons Inc
Publication Date: 21/01/2005
Category: Internet guides & online services
ISBN: 9780764578335