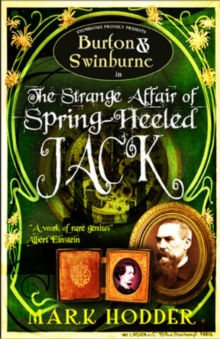 Burton and Swinburne in The Strange Affair of Spring Heeled Jack
Paperback
Description
It is 1861, and Albertian Britain is in the grip of conflicting forces. Engineers transform the landscape with bigger, faster, noisier and dirtier technological wonders; Eugenicists develop specialist animals to provide unpaid labour; Libertines oppose restrictive and unjust laws and flood the country with propaganda demanding a society based on beauty and creativity; while The Rakes push the boundaries of human behaviour to the limits with magic, sexuality, drugs and anarchy. Returning from his failed expedition to find the source of the Nile, explorer, linguist, scholar and swordsman Sir Richard Francis Burton finds himself sucked into the perilous depths of this moral and ethical vacuum when the Prime Minister, Lord Palmerston, employs him as 'King's Spy'. His first mission: to investigate the sexual assaults committed by a weird apparition known as Spring Heeled Jack; to find out why chimney sweeps are being kidnapped by half-man, half-dog creatures; and to discover the whereabouts of his badly injured former friend, John Hanning Speke. Accompanied by the diminutive and pain-loving poet, Algernon Swinburne, Burton's investigations lead him back to one of the defining events of the age: the brutal assassination of Queen Victoria in 1840; and the terrifying possibility that the world he inhabits shouldn't exist at all.
Information
Format: Paperback
Pages: 512 pages, 10 Illustrations, black and white
Publisher: Snowbooks Ltd
Publication Date: 01/04/2010
Category: Historical fiction
ISBN: 9781906727208
Free Home Delivery
on all orders
Pick up orders
from local bookshops
Reviews
Showing 1 - 5 of 10 reviews.
Previous | Next
Review by sarahjanesandra
16/06/2015
I was immediately intrigued by the story. My interest diminished during the section relating the story of Spring-Heeled Jack. I couldn't wait for the book to get there, but once there I didn't find myself as interested as I was in Sir Richard Burton. Overall I enjoyed it and would recommend it.
Review by patrickgarson
16/06/2015
This is a pretty bland effort cruising on an in-vogue genre (steampunk). Hodder forgets an important rule for successful novels: you need an internal journey, not just as external one. Unfortunately this leaves the book all sizzle and no sausage; and somewhat unsatisfying as a result.Sir Richard Francis Burton is accosted by a strange apparition one night in a London reeling from change both intellectual, moral, and scientific. Can he solve this mystery with the help of his plucky poet friend, Algernon Swinburne?Unfortunately, the answer is never in doubt. Hodder has an imaginative flair - his alternative London is rich with fun ideas and Victorian whimsy - but he doesn't apply the same creativity to his characters. Every single character is as flat as a board, and about as three-dimensional. Worse, the characters are almost completely static - there is no development or change the entire way through this fairly long book. Compounding this frustration, his action-packed plot never really calls for a diversity of response. Burton reacts the same way to the extreme situations that virtually anybody would; it makes rooting for him feel kind of redundant.Hodder has also literally excised women from his boys' own adventure. Right at the start of the book he makes it clear that this story has no place for women, and they are dutifully absent except as victims or wan supporting cameos from that point onwards. The novel is demonstrably poorer for it, and in this day and age there's absolutely no excuse for this kind of chauvinism.The prose itself, whilst serviceable, is almost completely flavourless - an odd occurrence when the world itself is so piquant. Hodder eschews all metaphor and simile, content to merely catalogue what's happening on the page, and throw in clunky expository dialogue when he feels the story may show a glimmer of ambiguity.Ultimately this shallow characterisation, pedestrian prose, non-stop action, and foregone conclusion leaves the book feeling like a Michael Bay movie, or a piece of showy television. Hodder's nudging winks and appropriation of famous Victorians in a kind of tribute/pastiche actually kept me further out of the novel. It's an easy read, and, despite its length, a fast one. But like junk food, it will leave you feeling full to the gills, yet vaguely dissatisfied. Precocious early-teenage boys might like this, but I never felt anything was at stake, and there was nothing else in the novel to entice me.
Review by souloftherose
16/06/2015
A steampunk extravaganza set in an alternate Victorian England where Queen Victoria was actually killed in the 1840 assassination attempt and Prince Albert now rules as regent. Much like Scott Westefeld's Leviathan series, technological creations compete scientifically with the genetic enhancement of creatures and new species. And Sir Richard Francis Burton, the great explorer, is asked by the Crown to investigate a series of strange assaults which witnesses report were carried out by the legendary Spring Heeled Jack.I really, really like the steampunk genre; there's something about the mix of alternate history and strange steam powered inventions that I find really appealing. And yet, I found it really difficult to engage with this book despite my love for the genre as a whole.This is Hodder's first novel and there are certainly some good ideas in his book. It's a more than a little unfortunate that Westerfeld's Leviathan trilogy makes Hodder's Eugenics/Technologists divide seem slightly unoriginal, but the overall feeling I got from the book was that there were too many good ideas crammed into its 500 pages. As an example, instead of just one famous Victorian scientist featuring as a main character we seem to have every one the author could think of. I also struggled to like any of the main characters and although I realise that Victorian women were not generally encouraged to live a life of adventure it would have been nice to have one main female character. So, overall, a just about ok read for me. I would guardedly recommend this book if you are already a fan of steampunk novels but otherwise I would recommend other steampunk novels like Tim Powers' The Anubis Gates, Scott Westerfeld's Leviathan series and George Mann's The Affinity Bridge first (in fact George Mann and Mark Hodder are both published by the same publisher, Snowbooks).
Review by mbg0312
16/06/2015
I was a little distracted when I read this, but the twists this put on Victorian England were definitely worth a good look. I'm looking forward to more from Hodder.
Review by shanaqui
16/06/2015
I'd been meaning to read this for ages, but when I finally got round to it I couldn't really find any enthusiasm. Which is sad, since there are some awesome reviews out there, but it really didn't come together well -- the characters are all caricatures, and if he could write more stereotypically Victorian women I don't want to read him doing it. Oh for some capable, sensible women...<br/><br/>The alternate history and so on is interesting, and there's a certain energy to the prose, but it started slowly, the information came in lumps, and I just didn't get into it. Meh.
Also in the Burton & Swinburne series | View all