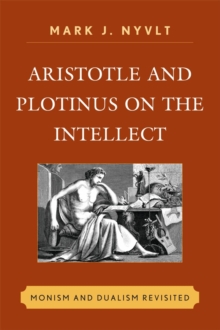 Aristotle and Plotinus on the Intellect : Monism and Dualism Revisited
Hardback
Description
This book emphasizes that Aristotle was aware of the philosophical attempt to subordinate divine Intellect to a prior and absolute principle.
Nyvlt argues that Aristotle transforms the Platonic doctrine of Ideal Numbers into an astronomical account of the unmoved movers, which function as the multiple intelligible content of divine Intellect.
Thus, within Aristotle we have in germ the Plotinian doctrine that the intelligibles are within the Intellect.
While the content of divine Intellect is multiple, it does not imply that divine Intellect possesses a degree of potentiality, given that potentiality entails otherness and contraries.
Rather, the very content of divine Intellect is itself; it is Thought Thinking Itself.
The pure activity of divine Intellect, moreover, allows for divine Intellect to know the world, and the acquisition of this knowledge does not infect divine Intellect with potentiality.
The status of the intelligible object(s) within divine Intellect is pure activity that is identical with divine Intellect itself, as T.
De Koninck and H. Seidl have argued. Therefore, the intelligible objects within divine Intellect are not separate entities that determine divine Intellect, as is the case in Plotinus.
Free Home Delivery
on all orders
Pick up orders
from local bookshops