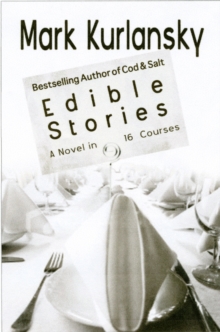 Edible Stories : A Novel in Sixteen Delicious Courses
Paperback
Description
Robert Eggle finds himself standing one day in a hole in the sidewalk, rain plastering his clothes to his body, with no memory of who he is, his former life as a food critic, how he got there, or where he should go next.
Trying desperately not to be unknowing to people who seem to recognize him including his wife Margaret, he has to survive by holding on to what he tastes.
He finds his preoccupations narrowed down to his loss of taste, and the puzzling gastronomic tales people regale him with.
Why is it important not to be too gourmetA"? And what is the real purpose behind red sea salt? There is his ex-wife Margaret, who becomes the unwilling obsession of a man from Papa New Guinea with an unusual appetite, and Emma, his neurotic fan who sees a conspiracy in creme brulees.
In this world where love is celebrated with peppered, slow-cooked menudo, and where friendships are forged over fat-free muffins, Edible StoriesA" serves up a delectable tale of quirky individuals whose lives intersect in amusing, poignant, and surprisingly thrilling with a man who remembers nothing but the texture of the food he has eaten.
Information
Format: Paperback
Pages: 320 pages
Publisher: Gibson Square Books Ltd
Publication Date: 01/03/2011
ISBN: 9781906142872
Free Home Delivery
on all orders
Pick up orders
from local bookshops