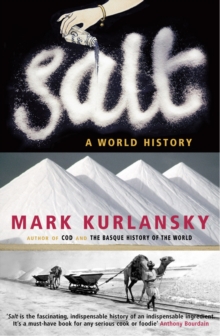 Description
Homer called it a divine substance. Plato described it as especially dear to the gods. As Mark Kurlansky so brilliantly relates here, salt has shaped civilisation from the beginning, and its story is a glittering, often surprising part of the history of mankind.
Wars have been fought over salt and, while salt taxes secured empires across Europe and Asia, they have also inspired revolution - Gandhi's salt march in 1930 began the overthrow of British rule in India.
From the rural Sichuan province where the last home-made soya sauce is produced to the Cheshire brine springs that supplied salt around the globe, Mark Kurlansky has produced a kaleidoscope of world history, a multi-layered masterpiece that blends political, commercial, scientific, religious and culinary records into a rich and memorable tale.
Information
Format: Paperback
Pages: 496 pages
Publisher: Vintage Publishing
Publication Date: 06/03/2003
Category: Social & cultural history
ISBN: 9780099281993
Other Formats
Paperback from £3.99
EPUB from £6.99
Free Home Delivery
on all orders
Pick up orders
from local bookshops
Reviews
Showing 1 - 3 of 3 reviews.
Review by ablueidol
16/06/2015
World history of the extraction and use of salt and its consequences for human life. Interesting insight into how it shaped political and economic forces from the strategic weakness of the south in the USA civil war to the raise and decline of Venice etc. And promoted and sustained the power of the state-interesting potential for a Marxist case study here.
Review by isabelx
16/06/2015
This was one of books chosen for the Motley Fool book club and I borrowed it from the library, The introduction started with the author's description of a piece of rock salt that he bought in Spain:<i>I took it home and kept it on a windowsill. One day it got rained on, and white salt crystals started appearing on the pink. My rock was starting to look like salt, which would ruin its mystique. So I rinsed off the crystals with water. Then I spent fifteen minutes carefully patting the rock dry. By the next day it was sitting in a puddle of brine that had leached out of the rock. The sun hit the puddle of clear water. After a few hours, square white crystals began to appear in the puddle. Solar evaporation was turning brine into salt crystals.For a while it seemed I had a magical stone that would perpetually produce brine puddles. Yet the rock never seemed to get smaller. Sometimes in dry weather it would appear to completely dry out, but on a humid day, a puddle would again appear under it. I decided I could dry out the rock by baking it in a small toaster oven. Within a half hour white stalactites were drooping from the toaster grill. I left the rock on a steel radiator cover, but the brine threatened to corrode the metal. So I transferred it to a small copper tray. A green crust formed on the bottom, and when I rubbed off the discoloration, I found the copper had been polished.My rock lived by its own rules. When friends stopped by, I told them the rock was salt, and they would delicately lick a corner and verify that it tasted just like salt.Those who think a fascination with salt is a bizarre obsession have simply never owned a rock like this.</i>Carnivorous animals and humans who live by hunting do not need to add salt to their diet as there is plenty in red meat. But once people developed agriculture, they had to add salt to their food. They also needed to feed it to their animals once they were penned in and no longer free to find their own sources of salt. In the past, roads often developed from animal tracks leading to salt licks, with towns often growing up by these easily exploited source of salt. Buffalo, New York was founded by a salt lick used by buffaloes. But we don't just need salt for food; it has 14,000 recognised uses! Sodium chloride is not the only type of edible salt. The Ancient Egyptians used a salt called natron that is a mixture of sodium bicarbonate and sodium carbonate with a small amount of sodium chloride, and Africans continued to use different edible salts for different dishes.Over the past few thousand years similar processes for extracting salt from seawater, brine and rock were developed in all parts of the world, although the Chinese were usually ahead of everyone else. By 200 A.D. they were burning natural gas to evaporate salt from brine, having realised that the murderous invisible demons who often killed salt workers were actually a flammable gas. When making salt by boiling brine in pans, blood or egg whites would be added in order draw out impurities, forming a scum that could be scooped off the surface.Throughout history and across the world, salt has been a fantastic source of revenue for governments, who have imposed punitive taxes, nationalised salt production, banned salt production in some places to support the salt industry in other place, and based colonial policy on it. This has led to rebellions and revolution and wartime blockading of salt imports and destruction of the enemy's salt works. It's all fascinating stuff, and although the book does include black and white illustrations, I was also able to find lots of interesting pictures of salt production online.
Review by LynnB
16/06/2015
The introduction to this book really grabbed me as Mr. Kurlansky describes a piece of rock salt he owns. And, all in all, I did enjoy this exploration of salt mining and uses through history and across different countries. This is not, however, my favourite book by this author. I found it repetitive and, at times, superficial.