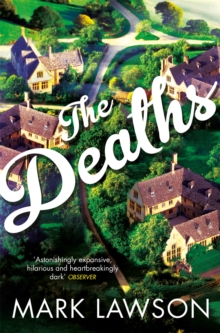 Description
Four families live in a beautiful stretch of English countryside in magnificent listed houses, built for the old aristocracy.
They are the new aristocracy and the elite of their village: financiers, business tycoons, lawyers, doctors, magistrates.
They leave their rural idyll only to commute first-class to London for meetings, deals and theatre outings or Heathrow flights to winter sun or half-term skiing.
They and their children are protected by investments, pensions and expensive security systems.
But the money is running out in Britain, and as tensions and relationships develop within the group of friends, finally, deep in the English winter, an unthinkable act of violence destroys these dream lives and demonstrates that the biggest threat may come from unexpected places.
This horrific act happens on the first pages but Lawson provides dramatic twists and false turns and it is only by the end of the book that we discover who the victims are and who committed the crime.
Mark Lawson's first novel in eight years is his most ambitious yet.
Combining ingenious plotting with forensic social comedy, this is a dark and brilliant novel of life in twenty-first-century England.
Information
Format: Paperback
Pages: 416 pages
Publisher: Pan Macmillan
Publication Date: 05/06/2014
ISBN: 9781447235699
Free Home Delivery
on all orders
Pick up orders
from local bookshops
Reviews
Showing 1 - 2 of 2 reviews.
Review by pgchuis
16/06/2015
The story of four rich couples who live in big houses in a commuter village in Buckingham. It is clear almost from the beginning that one of the husbands has killed his dogs, children and wife and then himself, but for most of the book the reader is not sure which family has died, while the preceding months are described in flashback. While it took me a while to get it straight in my mind who was married to whom, I never managed to work out whose children were whose. There are lots of details which root the book firmly in the near past and make it seem very real - I have fond memories of using the self-scan service at Waitrose (although I always scanned every single item in my trolley!) Throughout I found it very well-observed and characters such as Jenno's clients at the CAB will stay with me. The solution is satisfactory - the clues are there - but I could have done without the very ending.
Review by Eyejaybee
27/08/2015
I used to enjoy listening to Mark Lawson's "Front Row" programme on BBC Radio 4, and was looking forward very eagerly to reading this novel, though, as always in such circumstances, there was a slight fear that I might prove disappointed. Such fears were groundless, however, as Lawson definitely delivers in spades with this finely crafted novel about life in Middle England during the recent economic downturn and the Government's austerity measures.The novel is based around four families living in a village in the commuter belt of Buckinghamshire. Self-styled as 'The Eight', the four couples occupy the four largest houses in their village and have gradually created their own exclusive social circle. Despite their closeness, however, a degree of stratification is already evident as the novel opens. At the pinnacle of the inner society stand the Dunsters, Max and 'Jenno', whose position is supported by Dunster Manor Ltd, the family firm that Max inherited and which makes high class diaries and calendars and similar products popular around the world. Next in line come the Crossans, Jonny and Libby. Jonny, son of a now ennobled Tory Minister from the Thatcher and Major administrations, is a very successful barrister while Libby sits as a local magistrate and also features in countless local committees. Former soldier Tom Rutherford is chief executive of his own security firm while his wife Emily is a local doctor. The fourth couple is made up of Natasha ("Tasha") and Simon Lonsdale. Tasha owns a catering company while Simon is a senior executive in a PR firm which is currently struggling to rehabilitate the image of a failed bank. All four couple have children who go attend the same local private school, and almost all of their socialising seems to be conducted within the clique.Alternating chapters of the story recount the discovery of a brutal mass murder in which one of the families is killed by the husband/father who then shoots himself. The other chapters show the lead up to this awful crisis, taking the families through a chaotic series of set pieces, each more splendid extravagant than the last. Lawson handles this crescendo of conspicuous expenditure with great deftness, sowing clues to the startling denouement that might feasibly apply to any of the four families.It was very reminiscent of John Lanchester's "Capital" (one of my favourite novels ever), with the scene transplanted from South London to rural Buckinghamshire. Lawson is as capable as Lanchester at making telling observations about the state of the nation, and the ever-widening chasm between the 'haves' and the 'have-nots' in divided Britain.Supremely enjoyable.